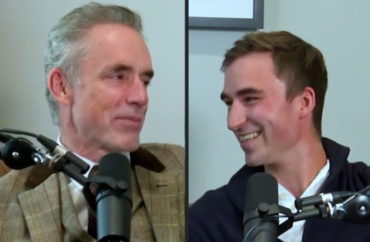 'If your words are well structured … and aimed like an arrow, you're unstoppable'
Julian Peterson, the son of clinical psychologist and best-selling author Jordan Peterson, recently launched a website and app designed to improve the writer rather than improve the writing.
Called "Essay," the software aims to go beyond the typical grammar and spell check tools to help writers hone their craft and learn how to use language in a powerful and meaningful way.
"There aren't shortcuts on the path to becoming an expert writer or thinker, but the path could be smoother," Julian Peterson said in an email interview with The College Fix.
The "writing process can be taught in more structured and less intimidating ways, such as offering tools to improve one's writing and explaining the philosophy behind choosing a meaningful topic to explore," he said.
"Essay" was inspired by a writing guide his father, a former professor, wrote to help his students. Jordan Peterson tweeted June 8 that "writing your traumas helps you overcome them."
"My son @julianpeterson1 has expanded my writing guide and created a platform designed to help you learn to write. Try it here – https://essay.app."
Why writing your traumas helps you overcome them. My son @julianpeterson1 has expanded my writing guide and created a platform designed to help you learn to write. Try it here – https://t.co/08Bi5XRjbD pic.twitter.com/d8ZX5cQBUS

— Dr Jordan B Peterson (@jordanbpeterson) June 8, 2022
"If you think your life doesn't depend on your words, you just don't know anything about words," Peterson said in a video with Julian and his daughter, Mikhaila Peterson, introducing the app.
In Jordan Peterson's writing guide, which he wrote 15 years ago, he also advised: "If you want to have a life characterized by competence, productivity, security, originality and engagement rather than one that is nasty, brutish and short, you need to think carefully about important issues. There is no better way than to write."
The Essay app integrates Peterson's philosophy into an application designed to help writers apply the principles using tools made available by the software. Users begin by outlining their essay, move on to drafting, and continue to "rewrite, reorder, and reread," according to the platform's website.
In an exclusive interview with The College Fix, Julian Peterson described his app as different from other online writing tools and built on his dad's philosophy:
(Interview edited for length and clarity.)
The College Fix: What influenced and inspired you from a personal standpoint to develop the Essay app?
Julian Peterson: I grew up surrounded by university professors and my dad was always deeply invested in an idea (or ten), so our dinner table conversation often revolved around ideas, books or articles. I was taught to appreciate the exploration of deep ideas and to recognize effective communication as an essential skill.
When I went to [school], I noticed that students were rarely given useful tools to begin their journey as writers and that their development was usually very tied to whether they ended up with a teacher or professor willing to mentor them. This usually means that a couple of students per class get a real writing education, and the rest get very little.
Most writing software that people use right now is designed to improve the writing rather than improve the writer. Most rely on auto-complete features designed to take the work out of the writing and fast-forward to a polished piece. A computer program improving your sentences, grammar, or word choice for you will end up doing very little for your improvement as a communicator or a thinker.
We decided to build Essay when we noticed that 150,000 people had downloaded my dad's "Essay writing guide" from his website. Because I used my dad's guide to write my essays throughout university, I knew that while the process outlined there was effective, it was cumbersome to complete using traditional text editors. I became convinced that carefully-designed software could substantially reduce the friction of completing that process.
It's also the case that the skills taught through learning to write have never been more important. There is a sea of information available at everyone's fingertips. The more people practice clear thinking, discerning between good ideas and poorly reasoned ideas, and free creative exploration, the better our future will be.
TCF: How does Essay simplify that original document into an app?
JP: When we started to think about turning the writing guide into a piece of software, our first inclination was to create a course. But we wanted to create something that writers could integrate into their current process. We also wanted to help people learn through the very act of their writing. It's far from perfect at this point, but we've already received a lot of feedback from our initial users that it is doing for them what we intended it to do.
TCF: Many people find writing difficult. How does Essay alleviate some of the anxiety writing produces?
JP: Essay makes writing less daunting by separating creative production from the editing process. People often try to edit at the same time that they write. It's very hard on the brain to switch between being creative and being a discerning editor. Essay cleanly separates the processes by offering four separate tools: Outline, Produce, Rewrite, and Reorder. This separation encourages writers to be in creative production mode while they write their drafts, focusing on getting ideas on paper. Then, they get to be in selective editor mode while they go through their work, line by line, making sure every idea is communicated effectively, and organized in an ideal way.
TCF: It looks like Essay will operate as a subscription-based platform. You have mentioned that you are also considering offering a free version of the app for people who cannot afford to pay but who would benefit from the program, like students. What are the options you are thinking about?
JP: We are still considering a variety of monetization strategies, and have been receiving a lot of feedback about how we can improve our current model. Essay is being used in over 100 countries already, and we know our current model is not perfect. … We're motivated to eventually offer a free version of Essay, perhaps with a limited feature set. We are very early in our product lifespan, so a lot of things are on the table, and our current monetization model isn't set in stone.
TCF: What will be Jordan Peterson's involvement with this project moving forward?
JP: My dad is connected online to a huge network of people who are similarly interested in ideas and who are motivated to improve their thinking and writing. So right away a ton of users started testing the platform and suggesting ways to improve it. [My dad and I] discuss a lot of the most common (and most interesting!) feedback. He frequently has good ideas about how we might prioritize our product decisions or what new features might improve the platform.
Jordan Peterson plugged his son's app, says good writing 'sets your life in order'
In the video Peterson published introducing the app, he stressed the virtues of good writing.
"If your words are well structured and inspired and properly motivated and aimed like an arrow, you're unstoppable," the elder Peterson said in the video.
"If writing is thinking, which it is, and thinking sets your life in order or not, then you don't let people mess with your words. You want to get them in order like soldiers. And that's partly what this writing program is designed to help people do," Jordan Peterson said.
MORE: Jordan Peterson to new grads: you will suffer in life; rise above it
IMAGE: YouTube screenshot
Like The College Fix on Facebook / Follow us on Twitter