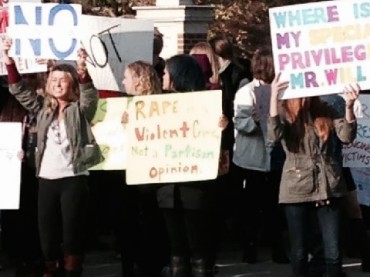 Hoisting signs such as "Quit giving misogyny a voice Miami" and "Where is my special privilege Mr. Will?" roughly 75 students choked the business school gates where conservative columnist George Will gave a guest lecture Wednesday night at Miami University in Oxford, Ohio.
As guests headed into the campus area to hear the talk, part of the Anderson Distinguished Lecture Series, protesters handed out rape and sexual assault information sheets to passersbys while repeatedly chanting slogans such as "No means no, whatever we wear, wherever we go, yes means yes" and "nothing less than yes."
The protest was right in front of the business school gates, so anyone entering through the front gates to attend the event had to walk through the crowd and endure a barrage of chants and information sheets.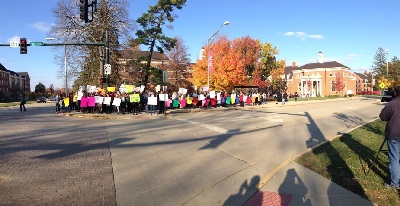 Other signs touted taglines like "Rape is a violent crime, not a partisan opinion" and "survivors of rape deserve love and honor."
Yet the protest apparently did not deter an enormously varied crowd from packing the 400-seat venue where Will, a Pulitzer-prize winner with The Washington Post, spoke. Students, faculty and Oxford community members were there to listen about the night's topic, the political argument today.
By 3:30 p.m., Miami University students were lined up outside of the Farmer School of Business for a wristband into the 5:30 p.m. lecture. The purpose of this lecture series, according to the business school's website, is "to expose students and faculty to opinion leaders whose ideas will impact business and society."
But a large contingent of students and faculty did not agree with a "controversial" column by Will published June 6 that the alleged epidemic of campus rape is overstated and hurting due process rights for the accused.
An "Open Letter Regarding George F. Will's Visit to Miami 2014" to university President David Hodge disapproving of Will's views was signed by more than 1,000 on the campus community.
"The hosting of George F. Will for this year's Anderson Distinguished Lecture sends the wrong message to current students, prospective students, and their families about the tolerance of rape culture and predatory sexual behavior at Miami University," the letter stated. "Will's June 6, 2014 op-ed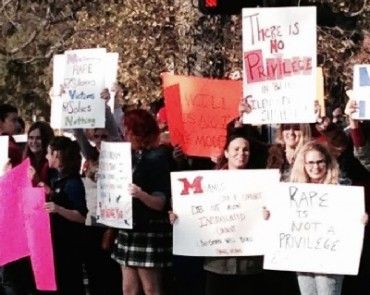 column in The Washington Post belittled the 'progressivism' of new measures to help prevent sexual assault on campus. Sexual assault is not a partisan issue."
The protest did not disrupt the lecture event, however, and no one could hear it once inside the auditorium. But it was clear the protesters would rather stand outside amongst themselves instead of going to hear what Will had to say.
There were three students who asked Will about his June column and his views on sexual assault and victim "privilege."
Will patiently and fairly answered each question with an explanation of his view that he tried to explain in his June Washington Post column regarding the erosion of due process and oft-touted campus rape statistics that don't seem to add up.
College Fix contributor Katie Webster is a student at Miami University.
Like The College Fix on Facebook / Follow us on Twitter
IMAGES: Katie Webster for The College Fix