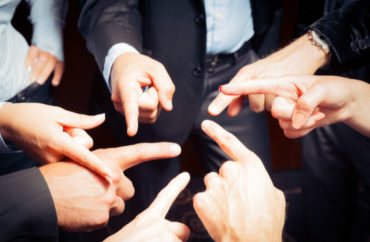 UPDATE – Professor Gower has provided his account in an addendum below.
Last November, University of Florida chemistry Professor Jeffrey Gower was displeased with how some of his students had performed on an exam he'd given them the previous night.
According to one of the students in his chemistry class, he said the students were "disgusting" for failing the exam and called them "a waste of space."
The next morning, Gower, an adjunct lecturer, found himself the subject of an official complaint filed by a student through the university's "Bias Education and Response Team" website.
This is one of six reports filed to the University of Florida's Bias Education and Response Team during the fall 2018 semester, according to a Freedom of Information Act request filed by The College Fix. The other reports include a student who was barred from joining a fraternity due to political affiliation, a racist Snapchat screenshot, and a meme that poked fun at a rival football team using crass humor, among other complaints.
The university's "Stop Bias" program encourages everyone on campus to report incidents of bias against an individual's "actual or perceived age, ancestry or ethnicity, color, creed, disability, gender, gender identity or expression, height, immigration or citizenship status, marital status, national origin, race, religion, religious practice, sexual orientation, socioeconomic status, or weight."
The student who had made the complaint against Gower deemed it "bias" against "ability," noting "respect goes both ways." In rating the severity of the professor's "verbal harassment" on a scale of one (relatively harmless) to five (severe bias), the student deemed the transgression a "three." Gower did not respond to multiple attempts to contact him for this story.
Another bias complaint filed last fall at the University of Florida came from a student who attended an Alpha Kappa Psi recruitment event on campus. The student, hoping to gain membership to the co-ed business fraternity, wore a pair of socks emblazoned with a photo of their favorite political candidate. (The university redacted personal student information from the reports, and the student did not state which candidate was touted on their socks).
Later, a friend told the student he or she had been denied membership to the group because of their political affiliation. The student believed the socks were the giveaway, allowing fraternity members of opposite political beliefs to turn down his or her membership request. Alpha Kappa Psi did not respond to multiple requests for comment.
Another bias complaint asked the university to take action against a website completely unaffiliated with the school. Last August, a Facebook page dedicated to Florida football called "Inside the Gators" featured a photo of two men holding hands on a beach. It was captioned, "I Told Him I'm a Georgia Fan, He Said Me Too…The Georgia Bulldogs Suck."
This post drew a bias report from a Florida alumnus, saying the photo was anti-gay and the website "appears to establish a direct/official connection to the university." (The official Inside the Gators site states it is "an independent site and is not affiliated with the University of Florida.")
"While I understand it is impossible to monitor all online activity of pages that purport to act as an official voice of the University, I would expect high-visibility pages such as this one might be more closely monitored to ensure an [sic] positive and accurate reflection of the university's policies are publicized," the alumnus wrote, saying the page had also been reported to Facebook.
On the scale of severity, the complaint rates the Facebook photo as a "five."
According to Assistant Vice President of Student Affairs Mary Kay Carodine, she emailed the reporter "to let them know that the athletic site is not a part of the University of Florida."
In another complaint, an anonymous UF student reported another student for a Snapchat post attacking "stupid jews, stupid mexicans, and especially n—ers." The report includes a screenshot of the tirade without any identifying information about the alleged poster. Now the alleged offender's name is known to the administration, while the accuser's is not.
Such reports are commonplace on university campuses now that nearly 250 schools have implemented some form of a "bias reporting" mechanism, according to a 2017 report by the Foundation for Individual Rights in Education
Typically, a school will set up a website to allow students to report anyone on campus for engaging in "bias" or perpetrating "hate."But quite often, "bias response teams" serve as both figurative and literal speech police on campus.
FIRE also found 42 percent of campus bias teams also include law enforcement on their governing boards. This literally represents a "speech police" on campus, as every action – speech, facial expressions, hand motions – can now be monitored and reported to law enforcement.
According to Carodine, the school does not conduct investigations or take disciplinary action; rather, administrators "refer those who report incidents to appropriate campus offices that can effectively respond through investigation, educational coaching, or other resources, depending on the nature of the incident." In her interview with The College Fix, she noted the website is also helpful in tracking trends on campus.
Further, Carodine pointed to the university's free speech policy, which recognizes students' and professors' First Amendment rights to express themselves. "The United States' free speech protections are among the strongest of any democracy," reads the school's website, adding "the First Amendment protects even speech that many would see as offensive, hateful or harassing."
But others argue the mere presence of a bias reporting system cultivates a campus culture where students run to the university to tattle on each other. When students and professors know they are constantly being monitored, it could stifle free expression; especially when "hate" and "bias" is often a subjective term.
As for the University of Florida, among its six complaints filed to the Bias Education and Response Team last fall was one in which a Ph.D. student found a noose in a professor's College of Education office door mailbox and immediately reported it to campus police. The professor, who initiated the report with the Stop Bias website, explained that a chicken wing had also been found in the office door mailbox two years earlier. The police closed the case with no resolution, leading the professor to contact the Stop Bias site.
The sixth complaint dealt with a nonspecific "verbal harassment" incident with no detail provided.
The University of Florida first created its bias reporting system in 2012. Carodine noted the system operates at no cost to the university, unless the school spends money on advertising its availability to students. She said the university has purchased advertising materials for the site three times over the last six years "at a minimal cost."
UPDATE
In September of 2019, Professor Gower provided his side of the story regarding the bias complaint filed against him:
An exam was coming up in a few days, and I was aware of a few questions on the exam that contradicted what was taught in the students' textbook (the exams are written by multiple instructors, and a few of the instructors who were much higher level than I was wanted these (in my opinion) rather "tricky" questions to be on the exam). So I called for an Exam Review session during the class period before the exam was to take place, during which I went over those two questions, to help prepare my students for them. Those two questions were only answered correctly by 25% and 40% of the students in my class. I was not angry at the overall exam score average; what I was upset about was their performance on the two questions, the answers to which I basically divulged prior to the exam. So I told my students that (1) each semester we have to turn down hundreds of students trying to get into our chemistry class, students who might actually LISTEN to what is being said during exam reviews and other lectures, and that if the current students were not going to listen to what is being said, then they are "taking up spaces" in the class that other perhaps more attentive students would be able to have, and (2) I was disgusted that 75% and 60% of the class missed those two questions (I did NOT call the STUDENTS "disgusting" at all – I said that I was disgusted. But THEN, I told them that "everything will be OK – just refocus and prepare for the next exam, and with our exam-average policy (a policy that helps to assuage poor performance on any one exam) they should be OK". So I did NOT call the students "wastes of space", nor did I call them "disgusting", as your article reports.
MORE: Student files bias report after peer hogs weights at campus gym
IMAGE: Shutterstock
Like The College Fix on Facebook / Follow us on Twitter