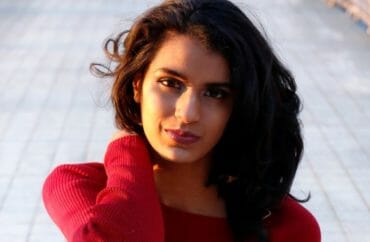 "Tell me one racist law that exists in the United States."
I sat across from my supervisor during our regular one-on-one Resident Advisor meetings at Cornell University, a time when we could individually receive feedback from our supervisor and bring up concerns and ideas. I was concerned about the lack of diverse ideas brought into our group RA meetings, and my supervisor had encouraged me to share with him how conservative ideas could be brought into the group conversations. But my meeting with the supervisor quickly took an unfortunate turn I should have expected, but didn't at the time.
As I asked this question to my supervisor, I felt on edge — my heart beat fast, my throat tightened, my hands gripped the chair's arms. Here we go again, I thought.
In this case, I heard my supervisor declare his view of what constitutes a racist law — "the Muslim ban."
I put the ban in context, explaining that it was only for seven Muslim-majority countries due to their unstable states and not because of religion, so the term "Muslim ban" is actually a misnomer.
"If President Donald Trump really wanted to ban all Muslims, why didn't he put India or Indonesia on the list as they have higher populations of Muslims than the seven countries banned?" I asked him.
The meeting turned into a debate over foreign and immigration policies. My supervisor told me never to use the term "illegal immigrant." At this point, I knew that I would not be able to be an RA after the end of the semester. My free speech rights should not be censored just because I am conservative.
The meeting with my boss reflected the typical weekly RA sessions. While the intent of our group meetings was to foster diverse discussions, they frequently evolved into sessions bashing various conservative policies. Most of my peers would agree on some liberal policy, and I would be the sole dissenter, defending my views against a hostile crowd. Sometimes I even changed a few minds, but the emotional toll was taxing. I felt like I was being judged constantly.
My time at Cornell was an educational experience, both academically and in terms of personal growth.
As somebody who immigrated with her family to the United States from India, I have found this country to be a place where any person can make it regardless of their past. My family put in the time, money, sacrifices and dedication to become U.S. citizens the correct and legal way. I learned through their example that if I worked smart and hard, I, too, could achieve the American Dream.
But at Cornell, one of the most prestigious universities in the nation, I was taught the opposite: that the land of opportunity is a farce, that skin color matters more than personal experience, that right-of-center views cannot be tolerated or included.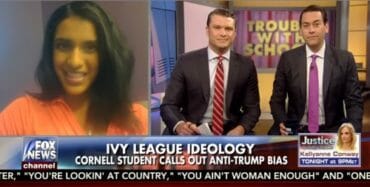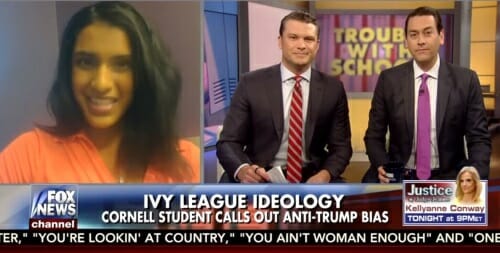 One of my most difficult experiences there came after I appeared on Fox News to discuss my experience as an RA and voice alarm over a class that deeply criticized Donald Trump while venerating Barack Obama.
"Based on the syllabus, it doesn't seem like a fair conversation," I told the anchor about the new government course offered in 2017, "America Confronts the World." The syllabus accused Trump of xenophobic nationalism while describing Obama as a pragmatic cosmopolitan.
While I expected disagreement from many Cornellians for my views, I was mentally and emotionally unprepared for the backlash, name-calling and threats to my physical safety. Some peers called me "hateful" for being critical of the course, even though I never attacked the professor's character. Others suggested I was bigoted, even though they had never met me. One message I received over Facebook threatened physical violence.
Meanwhile, the Cornell Daily Sun campus newspaper published an article condemning my appearance and maligning my character.
It took some time, but I eventually emerged from the whole experience stronger and wiser. The troubling thing is I know I am not alone in my struggle, at Cornell or campuses nationwide.
Thankfully, I was able to find support at Cornell through groups such as the Network of enlightened Women, which provided a space for me to be with open-minded women.
Looking back on my four years at Cornell is bittersweet. I have some of my most cherished memories made with good, solid people. At the same time, I faced challenges that tore down the person I thought I was supposed to become and built me into the person I needed to be: confident, empowered, courageous.
Many people holding views similar to mine likely will not express their beliefs in the classroom or on campus out of fear of facing the isolation and threats I faced. This becomes a disadvantage for college students as college is supposed to teach students about various ideas.
Something is broken in our higher education system, but it doesn't have to remain that way. We must continue to challenge the effort to silence conservative viewpoints and call for intellectually open campus environments. This will improve education and society.
Neetu Chandak was born in India and immigrated to the United States with her family in 1998 when she was two. She grew up in Seneca Falls, New York, before attending Cornell University. During her college years, she was part of the Network of enlightened Women chapter at Cornell University.
This essay is one of 22 essays included in "She's Conservative: Stories of Trials and Triumphs on America's College Campuses," published by the Network of enlightened Women. The book is available for purchase here.
Like The College Fix on Facebook / Follow us on Twitter