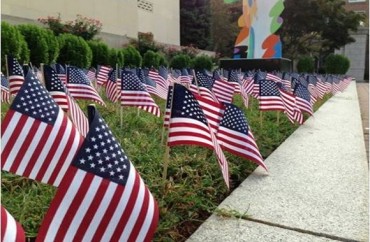 Students across America will take a moment today to remember the nearly 3,000 innocent lives killed by terrorists 14 years ago.
In addition to moments of silence or ceremonies to be held by some student governments and campus officials, conservative and Republican student clubs on colleges across America will mark the 14th anniversary of the Sept. 11 terrorist attacks by placing nearly 3,000 flags in the ground to represent each victim of the attacks.
Such displays are organized by Young America's Foundation, and many chapters will include prayer services and speakers in poignant and solemn observances.
"It feels incredible to see that students, many of whom had not even entered elementary school at the time of the attacks, have such a strong sense of patriotism that they take the time and the effort to remind their peers of the attacks perpetrated by radical Islamists," said Emily Jashinsky, spokeswoman for YAF.
Young America's Foundation supplies the flags to students as part of its annual "9/11 Never Forget Project." It was launched in 2003 in response to the inadequate commemorations at schools just two years removed from the attacks, she said.
"Circumstances like the class offered this year at UNC that sparked national outrage by teaching 9/11 from the terrorists' perspectives remind us that we can't rely on our country's academic institutions to properly educate students on the lessons of 9/11," she said.
Every year a handful of students encounter resistance from their universities, but the schools typically cave when pressured by the community to allow the displays, she added.
YAF members invite the entire campus community to help place flags in the ground. Sometimes they are organized into the shape of a cross. Other times they are set up in rows along the quad.
"Many students in college now were only five years old when the attacks happened, which is why this project is important now more than ever," states YAF's University of Tennessee-Knoxville chapter. "We understand the significance of 9/11 and hope to raise awareness about the importance of eradicating terrorism."
In adding to the YAF flags at College of the Ozarks, part of a steel column from the World Trade Center will be unveiled today at the campus, the Joplin Globe reports.
"We at the college believe that it is important to never forget what happened that day," Marci Linson, dean of admissions at College of the Ozarks, told the Globe. "It is important to teach our students that our country was founded on the ideas of freedom."
Like The College Fix on Facebook / Follow us on Twitter