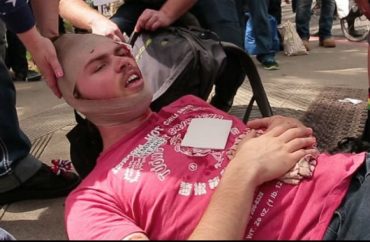 But one national security analyst argues the group should not be allowed on campus at all
George Washington University law Professor Jonathan Turley recently warned that Antifa is already on college campuses and said its members should be expelled if they commit violence.
However the legal scholar defended the group's right to free speech on campus as long as it remains peaceful.
In an August 4 op-ed in The Hill, Turley wrote that Antifa has taken credit for blocking conservative speakers on campus and wrote that the group "is often the culprit on university campuses" in stopping speakers and causing disruption.
He repeated these arguments in testimony the same day in front of a Senate judiciary committee hearing.
During Turley's testimony, he told the Senate committee that Congress must take action to protect free speech on college campuses.
"Antifa and related groups thrive through intimidation, but they prevail through inaction. All that is required for free speech to die in America is for America to be silent."
He made similar arguments to The College Fix.
"As a classic liberal on free speech, I would defend the right of students to belong to this group," Turley told The College Fix via email.
"Indeed, I believe that these colleges would be benefitted from a debate over Antifa's values. Of course, Antifa is opposed to such intellectual exchanges. Yet, free speech protections are often extended to those who least deserve them," Turley said.
"We do not need free speech protections for the most popular in our society," he said. "Antifa is the antithesis of higher education but we cannot protect free speech through acts of exclusion."
However, Antifa should only remain on campus as long as its members remain peaceful, Turley told The Fix.
"As stated in my testimony, colleges and universities should expel any student and fire any professor who engages in violence on campus," he told The College Fix. "They should also suspend any student who prevents others from speaking or listening to speakers. This does not include protesting outside of events, which is itself an exercise of free speech."
He said that stopping speakers from speaking on campus, halting classes, or stopping events does not qualify as an act of free speech, however.
Colleges would not let an ISIS group on campus, argues terrorism analyst
But a national security expert disagreed with Turley's free speech argument.
Kyle Shideler, a homeland security and counterterrorism expert at the Center for Security Policy, said that Antifa's core beliefs are antithetical to a free society.
"Antifa's stated purpose is to physically assault those with whom they politically disagree, and ultimately to abolish the U.S. government in favor of an Anarcho-Marxist system," Shideler told The College Fix via email. "They do this by engaging in a variety of criminal behavior, including the making of terroristic threats, violent assaults and rioting."
Shideler, who testified alongside Turley at the hearing, does not agree that Antifa student groups should be allowed on college campuses.
He said he believes that such organizations, which exist in order to engage in violence toward those who it disagrees with politically, should not be permitted to operate as a student group on any campus.
"They could obviously articulate peaceful alternatives to the positions of those they oppose if they chose to do so," Shideler told The Fix. "But as a practical matter, if they were to support peaceful political discussion, they would not be Antifa as Antifa understands their own purpose."
Shideler said no university should feel the obligation to allow an Antifa group on campus since it "exists solely in order to engage in violent criminal activity."
He pointed out that no college "would reasonably permit a student chapter of ISIS or criminal street gang, by the same logic."
MORE: University refuses to let Antifa critic speak 
IMAGE: Shuttershot45/Youtube
Like The College Fix on Facebook / Follow us on Twitter