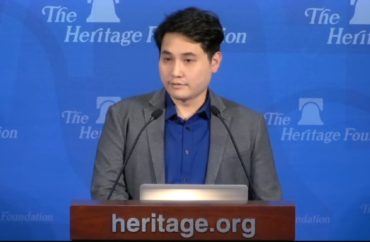 Public interest law firm goes forward with threatened lawsuit
The University of British Columbia won't let Andy Ngo speak because the Portland-based journalist "has been the target of violence in the past."
That's seriously the taxpayer-funded university's explanation for banning a scheduled campus event with the vocal critic of so-called antifascists, some of whom physically assaulted Ngo as he covered a protest in Portland.
The Justice Centre for Constitutional Freedoms had warned UBC that it would sue if the university didn't reinstate the Free Speech Club's Jan. 29 event on Antifa violence. In response, UBC counsel Hubert Lai doubled down on the university's submission to the heckler's veto.
In a Jan. 8 letter made public by the center Monday, Lai noted that UBC's stated commitment to "freedom of expression and academic freedom" in its space rental policy is overridden by its "obligation to maintain a safe environment for members of its community, and visitors to its premises":
UBC respects the right to freedom of expression and will not discriminate in a manner prohibited by the British Columbia Human Rights Code. UBC reserves the right to ensure that any use of Bookable Space does not compromise UBC's or the UBC community's activities, as well as the safety and security of persons and facilities.
UBC has been increasingly targeted with protest and disruption of campus events in recent months, including physical pushing, intimidation by mask-wearing protesters, vandalism, release of "noxious substances" and plain-old disruption of speakers, Lai wrote.
Ngo is simply too juicy a target for such thugs, the lawyer continued: "As you are aware, Mr. Ngo has been the target of violence in the past." The university is "legally entitled to manage access to its property in the same way as any other property owner."
MORE: UBC cites unspecified 'risk' to ban Ngo event
(Strangely, Lai's letter refers to UBC President Santa Ono – the original recipient of the center's legal threat letter – as "Professor Ono," implying the center issued the threat to an irrelevant academic. Ono himself identifies first as president and vice chancellor.)
The Free Speech Club's lawyers at the center said Monday that they would be "proceeding with legal action" against the university, which has still not informed the group of any specific threat directed against the event.
Angelo Isidorou, director of the Free Speech Club, shamed the university for "telling the world that free speech doesn't matter" and making clear it does not respect its own "policies founded on freedom of expression."
Center lawyer Marty Moore said the refusal to reinstate the event "effectively punishes a victim of violence by banning him from speaking at UBC, in what appears to be an attempt to appease the violent group Antifa."
Read Lai's letter and the center's response.
MORE: Antifa threatens Candace Owens event at Penn
MORE: UBC professor argues dodgeball 'reinforces oppression'
IMAGE: Heritage Foundation/YouTube
Like The College Fix on Facebook / Follow us on Twitter