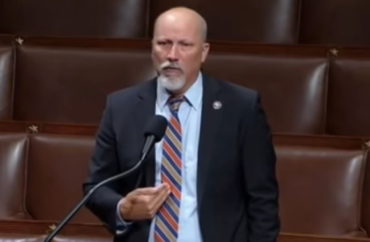 U.S. Rep. Chip Roy is standing by his seven-month-old comments about lynching after a group of American University students protested a speech he gave to their school's College Republicans on October 21.
During a hearing of the House Judiciary Committee in March, Roy, a Texas Republican, referenced a song by country star Toby Keith, saying, "We believe in justice. There's old sayings in Texas about, you know, find all the rope in Texas and get a tall oak tree. You know, we take justice very seriously, and we ought to do that. Round up the bad guys. That's what we believe."
The hearing's subject was anti-Asian sentiment in America. Just the week before, six Asian women had been shot at two Atlanta-area massage parlors. During the hearing, Roy called the shooting a "tragedy," and added "all Americans deserve protection."
Roy's comments continue to reverberate today, prompting a large protest against his campus speech last week.
"Apparently some folks are freaking out that I used an old expression about finding all the rope in Texas and a tall oak tree about carrying out justice against bad guys," Roy said in a statement sent to The College Fix this week. "I meant it."
"We need more justice and less thought policing," Roy said in the statement, which was previously released at the time of his comments. "We need to stop evil doers, such as those who carried out the attack in Atlanta this week, or cartels abusing little children, or those who kill our cops on the streets."
"He stands by it," Roy spokesman Nate Madden told The College Fix in an email on Monday.
Roy spoke to the AU College Republicans via Zoom, while demonstrators lined the room and frequently disrupted his comments regarding vaccine mandates, immigration and health care.
According to a student paper The Eagle, there were more protesters present than attendees.
"We can go on all day about debating the policy and what he's voted for or against, but he's made a lot of comments supporting the use of lynching as a tool of justice," student protester Matthew Low told the paper. "And that is seriously in violation of the values that we have here in SIS (School of International Service) and at AU."
Junior Noah Burke, president of the AU Republicans, told the paper he didn't subscribe to Roy's statements regarding lynching, but didn't think they were made with race in mind.
"I personally would not defend the practice of lynching," Burke told The Eagle.
"There is a lot I would agree with with Congressman Roy and a lot I would disagree with," Burke said. "Obviously lynching is abhorrent."
"I'm gonna say that it was definitely not intended to be hateful towards Black people specifically, because Black Americans have endured decades of racism and violent acts against them, including lynching," Burke said. "I'm going to assume that he was not specifically defending the practice of white nationalist groups lynching Black people, but I definitely think he could have had a better turn of phrase when speaking about lynching."
At the time of his comments in March, Roy came under heavy criticism from fellow members of Congress who believed he was advocating violence against minorities.
"Chip Roy glorified lynching at a hearing on violence against Asians," Rep. Ted Lieu (D-Calif.) wrote on Twitter. "The largest mass lynching in US history was against Chinese immigrants. I served on active duty in the US military to defend @chiproytx's right to say stupid, racist stuff. I just wish he would stop saying it."
But Roy said his comments were meant to encourage justice for those affected by violence against them, including Asian-Americans.
"We should restore order by tamping out evil actors, not turn America into an authoritarian state like the Chinese Communists who seek to destroy us," he said. "No apologies."
ALERT: Check out our new Campus Cancel Culture Database!
IMAGE: YouTube Screenshot
Like The College Fix on Facebook / Follow us on Twitter