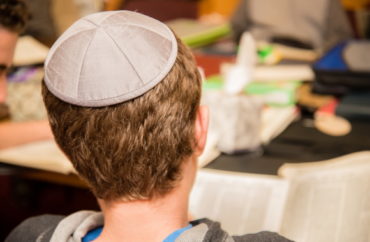 'No other identity group is subject to such a relentless and organized attack on their identity'
The "nature, scope and trajectory" of threats to Jewish and pro-Israel students on over 100 college campuses continues to get worse, according to a report recently released by the AMCHA Initiative.
The report cited the Israel-Hamas war as a driving force behind the increase.
A comparison of the 10-month period before the conflict, which ran from July 1, 2020 until May 9, 2021, and the first 10 months of the 2021-22 academic year "found a 100% increase in overall threats to Jewish identity (including either redefinition, denigration, suppression or some combination of these)."
By the numbers, it went from 114 incidents in 2020-21 to 228 incidents in 2021-22, the report stated. In addition, the total number of schools with overall threats to Jewish identity rose from 41 to 58, a 41 percent increase.
The report, titled "A Looming Crisis for the American Jewish Community: Campus Antisemitism & the Assault on Jewish Identity," stated that "hidden within these numbers is an insidious phenomenon that has taken root on college campuses of late: a pervasive and relentless assault on Jewish identity."
Tammi Rossman-Benjamin, co-founder and director of the AMCHA Initiative and one of the main researchers for the report, told The College Fix in an interview this month that the main goal is to understand what is happening on campuses and assess the problem so that it can be fixed.
Asked what she hopes readers take away from the report, Rossman-Benjamin said she wants to emphasize "it's not just another report on antisemitism."
"Antisemitism has been changing in insidious ways for college students on campuses," she said, saying the extent of the assaults on Jewish identity is "absolutely unprecedented," not just in "number but nature."
"No other identity group is subject to such a relentless and organized attack on their identity," she said.
Similarly, in the report, published in November, researchers wrote, "No other campus identity group is routinely subject to the kinds of well-orchestrated campaigns of identity assault that Zionist and pro-Israel students have had to endure for the last several years at schools across the country."
Rossman-Benjamin said the annual report details not just the number of attacks, but also illustrates that the nature of the attacks have gotten increasingly more severe.
"Attempts at boycotting/canceling/shutting down Israel-related events, programs, classes, trips, etc. increased nearly five-fold," the study stated. "Bullying and intimidation of Jewish students tripled (from 10 to 30 incidents), with the number of affected schools more than doubling (from 9 to 20 schools)."
The researchers wrote that there were "aggressive" student and faculty-supported campaigns of "denigration and redefinition that portray Jews as members of a powerful 'oppressor' group," providing a challenge for students "who come to college or university with a well-developed Jewish identity and strong connection to Israel."
Rossman-Benjamin said her hope is for Jewish students to be able to fully express their identity on campuses.
AMCHA's report called on the Jewish community to do more for their college-age affiliates.
"The Jewish community must invest in strengthening Jewish life on campus and enabling Jewish students of all backgrounds and levels of prior Jewish engagement," it stated, "to be part of a vibrant community that can provide the support, encouragement, education and fellowship necessary for not only weathering the toxic campus climate, but thriving as Jews."
Rossman-Benjamin called on universities to "stand firm" and guarantee that whatever anti-bias and anti-hate systems they have be "extended to every single student equally."
MORE: 'Only one solution': UMich Palestinian students protest Biden Israel support
IMAGE: Jyurinko / Shutterstock
Like The College Fix on Facebook / Follow us on Twitter