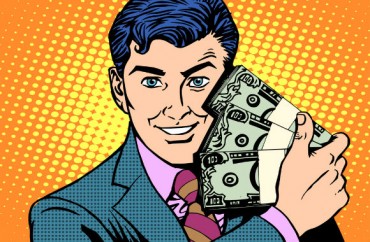 Efforts funded by the 'equivalent of a Charles or David Koch'
Students are being used as "pawns" to pressure their universities into making environmentally meaningless divestments from fossil fuels, according to a new report by the National Association of Scholars.
Inside Divestment: The Illiberal Movement to Turn a Generation Against Fossil Fuels is the sequel to this spring's NAS report on "sustainability," which alleged that schools were psychologically manipulating students into supporting evidence-thin environmental claims.
The right-leaning academic group released the 300-page report, which includes 10 appendices covering a who's who of divestment campaign players and institutions, at a press conference in New York Tuesday. It featured George Gilder, author of the Reagan-era capitalist tome Wealth and Poverty and chair of the Discovery Institute's Center on Wealth, Poverty, and Morality.
Like its predecessor, the new NAS report (which has a 16-page version) says campus activism surrounding environmental issues is geared toward shutting down debate, not on reducing schools' carbon footprint per se, in the service of a larger geopolitical campaign against fossil fuels.
Aiming to throw cold water on President Barack Obama's expected attack on fossil fuels at the Paris Climate Change Conference later this month, the report "closely examines the movement's structure, critiques its goals, and offers the most exhaustive encyclopedia of its activity, successes, and failures to date," NAS said.
.@NASorg REPORT: Big Green Pressure Groups Invade College Campuses #divestmentbullies https://t.co/kAufTneuVr pic.twitter.com/mM8MdL5cN3

— American Energy Alliance (@AEA) November 10, 2015
Since the release of Sustainability, the environmentally focused divestment movement has expanded dramatically, according to the report: Just since Sept. 1, 44 colleges and universities have divested from fossil fuels.
The focus on environmentalism includes significant school funding and purportedly student-led initiatives, including sit-ins and protests, says the report, written by NAS President Peter Wood and Research Associate Rachelle Peterson. (Peterson earlier told The College Fix she had been blacklisted by professors involved in divestment in conducting research for the report.)
"The superficial goals of the movement are to convince institutions to pull out of coal, oil, and gas investments," Wood and Peterson wrote, calling divestment a "spin-off" of the sustainability movement. "But the [divestment] movement's abiding purpose has been to pressure governments to favor wind, solar, and hydro power, and to make colleges and universities pressure cookers of sustainability," using students in "Astroturf" or fake-grassroots campaigns.
Top-down direction from rich liberals
An NAS backgrounder accuses "professional activists" of pulling the strings behind allegedly student-led campaigns, specifically environmental activist Bill McKibben's 350.org, former Vice President Al Gore and billionaire Democratic donor Tom Steyer, described as "the environmental movement's equivalent of a Charles or David Koch."
Students encounter the ideas and values behind the fossil-fuel divestment movement primarily in sustainability classes and through activities on their campuses, the report says, laying out the history of the movement on American campuses.
Producing segment #marketing videos for @NASorg at their "Inside Divestment" report launch event today in #NYC. pic.twitter.com/4UB6m4vvl4

— Abbson Live (@AbbsonLive) November 10, 2015
The sustainability and divestment movements have become obnoxiously politicized, with universities quashing freedom of thought and speech by students when they should be encouraged to discuss ideas, theories and beliefs, according to the report.
"The central premise of the campaign is that the political system is so indissolubly wedded to  the fossil fuel industry that government action on environmental policy is illegitimate," the report says.
"That premise casts anyone who disagrees with divestors as a mercenary of the fossil fuel industry" and "asserts that mob rule by street-marching activists is better than representative democracy, and that the tradition of civic debate is a hopeless waste of time," it continues.
The report provides pros and cons of divestment and lays out recommendations for students on how to approach environmental debate, under headings such as "Open your mind," "Fight groupthink" and "Respect opponents."
Peterson and Wood encourage students to research the history behind fossil-fuel divestment campaigns, rather than taking its proponents' claims at face value, and consider the implications of government-led curbs on fossil-fuel use and exploration.
"The fossil fuel divestment campaign is more than a foolish distraction from environmental conservation," the report says. "It represents an affront to academic freedom and the purpose of higher education, and an assault on the heritage of American political theory."
Like The College Fix on Facebook / Follow us on Twitter
IMAGE: studiostoks/Shutterstock