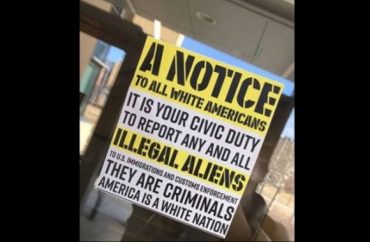 It's almost like a hate-crime hoax. Almost.
A group of progressive students at Gustavus Adolphus College have apologized for posters they put up across campus recently that stated: "A notice to all white Americans. It is your civil duty to report any and all illegal aliens to U.S. Immigrations and Customs Enforcement. They are criminals. America is a white nation."
The posters' aim was to start a dialogue on discrimination, hate and bias, and A-frames next to the posters advised students on what they can do if they witness discrimination, CBS Minnesota reports.
They were hung by the private liberal arts college's "Diversity Leadership Council," a student-run organization, in collaboration with social justice theater group I Am We Are, City Pages reports.
Unaware that this was some sort of social justice lesson, students reacted with shock and anger at the posters, ripping many of them down, according to various news reports.
The diversity council has since apologized, stating in part: "We understand that the language in these images may be hurtful — we apologize to those who were negatively impacted."
"We want to help put an end to bias-related incidents that happen on our campus, social media, and in our communities by forcing individuals to have dialogues about forms of hate and bias," it continued. "We hope that members of the campus community will reflect on today's events and join us in ensuring that no one student or group of students are ever a victim of this form of discrimination."
MORE — Police: Threat to burn UM student wearing hijab never happened
h/t: Inside Higher Ed
Like The College Fix on Facebook / Follow us on Twitter
IMAGE: Facebook/Overheard at Gustavus