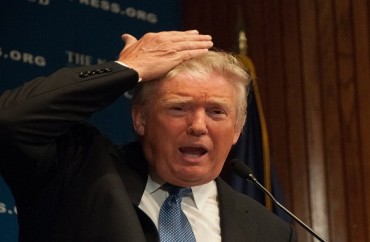 So much for diversity and inclusion.
A New York Post report details how students at the "famously liberal" 57,000-student campus are being verbally assaulted by peers for supporting Trump. They also feel the pressure from professors who control their GPAs, according to the report:
NYU's pro-Trump students fear for their safety — and grades.

They may be flooding caucus rooms across the country, but Donald Trump supporters at NYU keep their heads down, mouths shut and their correspondence secret.

Lying in class about their political beliefs and keeping online conversations strictly private are typical precautions taken by The Donald's badly outnumbered followers on campus.

"Supporters generally try to keep it hidden from the rest of the student body," said junior Dylan Perera, 22. "They're afraid of losing friends, being ridiculed in class, getting worse grades and are even afraid of being assaulted and physically hurt."

The computer-science major from LA said he was verbally accosted by a student who had asked about his affiliation.

"She freaked out and started yelling and screaming in my face, calling me a racist and a fascist. It was impossible to even have a conversation," he said.
That's one of several anecdotes detailed by the Post. It also reports on a student who specifically asked a professor not to out him as a Trump supporter, but the scholar went ahead and did so during class anyway.
Between the verbal assaults and their progressive professors, student Trumpsters have to stay undercover, meet in clandestine ways and keep their discussions off the social media grid.
"Disaffected Trumpers … have begun to gather in undetectable ways, through Facebook and in one-on-one meet-ups," the Post reports, quoting a student as saying the support is "decentralized" because "most people are too afraid to start an official group," adding it's mostly a "word-of-mouth network" and estimates there are about 30 unofficial "members" of the Trump underground.
RELATED: Women's college student president alerts police to 'Trump 2016' drawing, calls it 'racist act'
Like The College Fix on Facebook / Follow us on Twitter