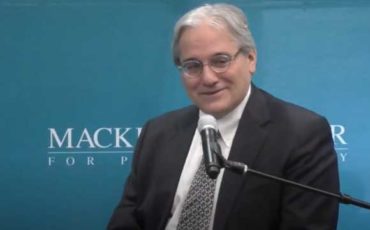 Campus cancel culture has 'chilling effect' on speech
A Cornell University law professor and critic of woke campus culture recently said that "repressive tolerance" is getting worse inside and outside of the college classroom.
"Repressive tolerance" is when, "in the name of tolerance," speech is suppressed for alleged offensiveness, Professor William Jacobson told Fox News in an interview published on January 17.
"They monitor your language, they get you to use language that only they approve, and once you've done that with somebody, once you've done that with a campus, that's enormous control," Professor Jacobson (pictured) said.
Fox News reported:
Jacobson said the removal of the words "illegal alien" or "illegal immigrant" from the college curriculum and its perceived negative connotations among faculty and students is a perfect example of how university debates have been skewed and truncated.

He said that administrators and faculty who advocate for open borders do not want the words "illegal" or "illegality" applied to people who illegally cross the border.
"Once they get you to change your language, you have now bought in, you have now complied with, their ideology," he said.
He said there is no way to know what common word will get you called a "racist" or a "bigot" even if "three days ago" it was acceptable to say it.
"They don't really care about the origins of these words. They don't really care about the history," the law professor said. "It's just a way of imposing their political viewpoint on everybody."
"We're talking about a campus culture here, and we're talking about a culture that only tolerates, for the most part, left-wing political viewpoints," he said. "And the policing of words is part of that repressive culture."
"There are very real-world consequences," Jacobson said. "And it only takes one professor being disciplined or fired, or one student expelled to scare thousands of students, or hundreds of faculties."
"It creates a very chilling effect," he said.
MORE: Check out the Campus Cancel Culture Database
IMAGE: Legal Insurrection/YouTube
Like The College Fix on Facebook / Follow us on Twitter