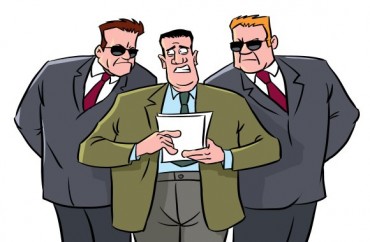 UPDATED
In a marvelous case of "turnabout is fair play," thirteen Republican attorneys general have sent a letter to their Democratic opposites warning them that if they persist with "fraud" probes of climate skeptics, then they'll respond in kind with their own investigations.
"If it is possible to minimize the risks of climate change, then the same goes for exaggeration," the letter reads. "If minimization is fraud, exaggeration is fraud."
Twenty professors and scientists had sent a letter to President Obama, Attorney General Loretta Lynch, and the Office of Science and Technology Policy's John Holdren suggesting the government use RICO  — the Racketeer Influenced and Corrupt Organizations Act — to prosecute "companies and organizations which have 'deceived' the public about climate change." ExxonMobil quickly became a target.
"Consider carefully th[is] legal precedent and threat to free speech," GOP state prosecutors state in their letter.
"We think this effort by our colleagues to police the global warming debate through the power of the subpoena is a grave mistake," said the letter.

The name of the coalition itself shows that the attorneys general "have taken the unusual step of aligning themselves with the competition of their investigative targets," namely the solar and wind energy.

"If the focus is fraud, such alignment by law enforcement sends the dangerous signal that companies in certain segments of the energy market need not worry about their misrepresentations," said the GOP letter.

MORE: The push-back against attempts to punish climate skeptics

Democrats have denied that the effort violates Exxon's free-speech rights. Schneiderman spokesman Eric Soufer said in a statement that, "The law is clear: the First Amendment does not give any corporation the right to commit fraud."

The campaign against Exxon, backed by a bevy of climate change groups such as the Union of Concerned Scientists, which has advised the Democrat-led coalition, also violates the Constitution by sending the message that certain viewpoints represent a prosecutable offense, the letter said.

"Actions indicating that one side of the climate debate should fear prosecution chills free speech in violation of a formerly bipartisan First Amendment consensus," said the Republicans.
Even before those profs and scientists had urged RICO action, various Democratic lawmakers had hassled university climate skeptics. Arizona Rep. Raúl Grijalva, for example, demanded information from professors at Pepperdine, the University of Delaware, and CU-Boulder.
Senators Sheldon Whitehouse (D-RI), Edward Markey (D-MA), and Barbara Boxer (D-CA) also were engaged, as well as (Democratic) California Representatives Ted Lieu and Mark DeSaulnier.
UPDATE: Competitive Enterprise Institute attorney Hans Bader has much more.
MORE: Profs, scientists want feds to crack down on climate skeptics
MORE: Gov. investigating profs who questioned climate change
Like The College Fix on Facebook / Follow us on Twitter
IMAGE: Shutterstock