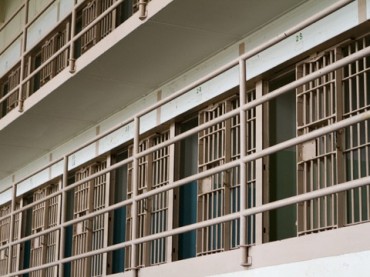 Republican state senator: 'This is an issue that unites the political spectrum because they see what's happening and it's wrong'
Conservative Republicans and progressive law professors don't often agree on many issues, but one civil rights controversy brewing in the Midwest have joined these strange bedfellows together.
The Saint Louis University Legal Clinic has filed a lawsuit against the city of Ferguson alleging its police department and municipal court system is illegally extracting money out of poor, mostly black residents by locking them in crowded and highly unsanitary jails cells for minor infractions, such as unpaid traffic tickets, until they can find a way to pay off their fines.
It's one of several suits that city and others nearby face for allegedly running so-called debtors' prisons and for-profit policing scams.
Meanwhile, reform of the system has become a rallying cry for some conservative politicians and pundits, who see the situation as a prime example of bloated and corrupt big government.
Missouri State Senator and Republican Eric Schmitt was the architect behind a recently passed measure that aims to limit the amount of revenue a municipality may profit from traffic tickets. Currently, municipalities in Missouri can earn 30 percent of their total revenue from traffic tickets. The bill would set a new 10 percent maximum. The legislation is now under debate in the Missouri house.
Indeed Missouri lawmakers, both Democrat and Republican, have offered criticisms and reform suggestions.
Schmitt continues to speak out about the issue, and has labeled the courts as "taxation by citation." He's not the only Republican sounding alarm bells. Authors at conservative outlets such as Red State and National Review have recently penned articles about the Ferguson court, suggesting they act as a "debtor's prison," and that such courts use citizens as "Virtual ATMs."
#TaxationByCitation must end & Municipal Court Reform is long past due #SB5 #MoLeg http://t.co/npViNThKhH @ryanjreilly

— Eric Schmitt (@Eric_Schmitt) March 26, 2015
These lawsuits and articles have also been bolstered by the U.S. Department of Justice's recent report, released earlier this month, which stated Ferguson's police department and municipal court impose "unnecessary harm, overwhelmingly on African-American individuals" that "exacerbate [d] the harm of Ferguson's unconstitutional police practices."
For Saint Louis University law professor John Ammann, the recent developments confirm "everything we've been saying for years."
"Finally now more people understand the problem," he said in an email to The College Fix.
The scholars' suit is one of a couple class-action lawsuits filed against Ferguson and nearby cities for allegedly running these so-called debtors' prisons, where conditions are reportedly so unbearable that the defendants – locked up for not being able to pay fines associated with traffic tickets and other minor ordinance violations – beg and borrow from family and friends to pay their way out.
"This is money that was taken illegally from poor, and often Black defendants, and could have been used to support themselves and their families," Ammann said, adding illegal fees are "primarily fees to recall (or cancel) warrants and fees to issue letters telling people they missed their court dates."
"These things cost the cities nothing to do, but they charge folks for it just to make money," he said, calling the fees "constitutional violations."
In addition to Ferguson, SLU's legal clinic is suing seven other municipalities in St. Louis County, according to a press release. The legal clinic has partnered with local non-profit ArchCity Defenders and the St. Louis-based Campbell Law Firm to bring forth the lawsuits, which allege the eight cities have charged citizens illegal fees in their municipal courts.
The lawsuits are still in their beginning phase as each city is in the process of hiring attorneys to represent them, Ammann said. They will soon move into the process of discovery, which allows the attorneys to ask for documents about how the courts have operated and the previous fees they have collected.
The lawsuits are calling for the municipalities to refund any illegal fees charged to citizens over the past five years. Court documents claim citizens were unlawfully jailed in deplorable conditions after non-payment of traffic tickets and were denied the right to an attorney, while also alleging "officers at the jail verbally abuse and degrade those who are being held."
According to one portion of a lawsuit, as reported in the Los Angeles Times, some Ferguson inmates are "denied toothbrushes, toothpaste, and soap; they are subjected to the constant stench of excrement and refuse in their congested cells; they are surrounded by walls smeared with mucus and blood; they are kept in the same clothes for days and weeks without access to laundry or clean underwear; they step on top of other inmates, whose bodies cover nearly the entire uncleaned cell floor, in order to access a single shared toilet that the city does not clean; they develop untreated illnesses and infections in open wounds that spread to other inmates; they endure days and weeks without being allowed to use the moldy shower …"
The lawsuits seek monetary damages, declaration that the cities infringed on the citizens' civil rights, and an injunction to stop what the lawsuits deem illegal practices.
An investigative expose on the Huffington Post on the practice, headlined "Fleece Force: How Police And Courts Around Ferguson Bully Residents And Collect Millions," has gone viral and includes dozens of anecdotes from Ferguson and beyond of people who have fallen prey to the system.
The story called Republican state Sen. Schmitt "the driving force behind the proposed legislation to crack down on municipalities that use their courts to generate revenue."
"I'm not sure I've worked on an issue where there is such intensity of support from the entire political spectrum, from conservatives to liberals," Schmitt told the Post. "I think that this is an issue that unites the political spectrum because they see what's happening and it's wrong."
College Fix reporter Nathan Rubbelke is a student at Saint Louis University.
Like The College Fix on Facebook / Follow us on Twitter