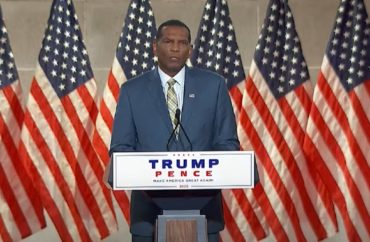 Several professors at the Catholic university signed onto a liberal group's warning about democracy
Five professors at the University of Notre Dame recently signed onto a letter circulated by the liberal New America group that warned about "threats to American democracy" due to Republican support for election integrity laws in places like Georgia. The "threats" also come from Republican, and Democratic, opposition to federal election takeover bills such as H.R. 1.
One professor says that this opposition is because the Republican Party wants to "dehumanize" people who threaten "white identity." (Pictured right, Republican Congressman Burgess Owens).
"Their goal is to dehumanize the people who are the sources of that threat," political science Professor Luis Fraga said in a news release from the university.
He said that the U.S. is a "a nation founded on the basis of slavery and its related racism."
He explained:
We have culture wars and our racist historical past and its lingering contemporary effects and immigration — particularly from Latin America — is identified as a threat to American identity and elements of American ideals. Add to that people coming from Muslim countries, and this intensifies the culture wars. We've seen the decline of the material status of some blue-collar workers in some parts of the country. All these things together have led to — and research backs this up — the importance of white identity.
"Working against this threatens the status of the Republican Party and spurs the gerrymandering/voting tricks," Fraga said.
Fellow Notre Dame political science Professor Scott Mainwairing also sees how Republicans want to stop racial minorities from voting.

The university's public affairs office paraphrased Mainwaring and said "overt attempts to suppress minority votes, the partisan manipulation of electoral administration and the refusal to accept Trump's defeat are all harbingers of the demise of democracy."
"These practices represent a movement toward competitive authoritarian regimes, and they are a deep threat to democracy," Mainwaring said in the news release.
The news release included a report from the V Dem Institute, which studies democracy around the world.
MORE: Harvard student papers say Trump supporters embrace white supremacy
IMAGE: PBS/YouTube
Like The College Fix on Facebook / Follow us on Twitter