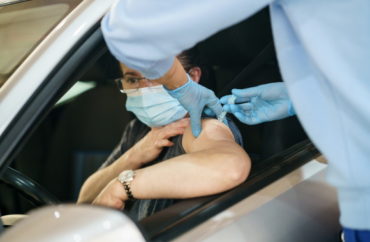 19,000 responses so far
A pair of researchers have created a research project to explore the effects of the COVID vaccine on menstruation.
It came after one of the researchers, anthropology Professor Kate Clancy, shared her own post-vaccine experience and received responses indicating other women had experienced menstruation problems after getting vaccinated.
"I'm curious whether other menstruators have noticed changes too" the University of Illinois at Urbana-Champaign professor asked, after sharing the story of a colleague who had period problems. "I'm a week and a half out from dose 1 of Moderna, got my period maybe a day or so early, and am gushing like I'm in my 20s again."
A colleague told me she has heard from others that their periods were heavy post-vax. I'm curious whether other menstruators have noticed changes too? I'm a week and a half out from dose 1 of Moderna, got my period maybe a day or so early, and am gushing like I'm in my 20s again.

— Dr. Kate Clancy 🏳️‍🌈 (@KateClancy) February 24, 2021
"I've been on the depo shot for 3 years. I have been SUPER regular, starting about a week before my window (so once every 3 mo) and very light," Amanda Beckman, a doctoral student in evolutionary biology said. "I am exactly 1 week after my Moderna 2nd shot and I started a very heavy cycle for me, and im about 2.5 weeks early."
"I had my 1st covid vaccine (pfizer) on April 29th [March] and I am now experiencing my first menstrual cycle in 28 months. I'm in menopause," Janett Langill said.
The problems reported led to Clancy and Katherine Lee, a research fellow at Washington University's public health school, to create a survey to learn more about the issue. Clancy advised Lee on her dissertation while the research fellow worked on her doctorate at University of Illinois.
Clancy announced approval of the survey on April 7.
Our survey was approved and made it through production! VACCINATED MENSTRUATORS ASSEMBLE:https://t.co/YY1eolCnWi

(This is a project to explore whether the covid vaxes affect the periods – if you have menstruated before and got the vax, take 15 min to tell us your experiences!)

— Dr. Kate Clancy 🏳️‍🌈 (@KateClancy) April 7, 2021
"Nobody thought to ask about it as a part of routine part of [trial] questionnaires," Lee said, according to an essay about the survey posted in Medium. "It's frustrating as somebody who thinks a lot about these biological processes. Why wouldn't you think to specifically to ask about these [menstruation irregularities] as symptoms?"
"The purpose of this study is to understand the menstrual experiences of people after they have been vaccinated for COVID-19," the survey said.
It asks respondents to tell the researchers "about the timing of your vaccines, your menstrual cycles, and your menstrual period."
The research appears to have the backing of liberal feminist author Naomi Wolf.
"Too many women in Dr Kate Clancy's thread reporting periods triggered weeks early, endometriosis worse, missed periods, ovarian cysts ruptured, menopausal vaginal bleeding, blood clots, to RT any more," Wolf tweeted on April 12. "In any time of integrity this would be a huge red flag re women's health."
Lee told The New York Times that 19,000 responses had been received as of Wednesday.
Link to fertility?
While the Medium author is adamant that these problems do not mean that there can be fertility problems with the vaccine, that's not a guarantee.
Menstruation and tracking cycles play a role in fertility awareness. While some of the comments related to women using birth control, it does appear that it could also affect women not using birth control.
A pro-life mother of two who often speaks about fertility awareness said that the medical community undervalues this.
"Fertility and infertility awareness are both undervalued by our medical community," Reagan Barklage, a regional director for Students for Life of America told The College Fix via email.
This undervaluation is "evidenced by the fact that women are not told of risks of infertility associated with abortion, and the fact that the FDA is working to strike down REMS screening requirements that can preserve a woman's fertility before a chemical abortion."
The Biden Administration recently moved to end the Risk Evaluation and Mitigation Strategy health standards for RU-486 chemical abortion drugs.
MORE: Notre Dame offers students vaccine tested on aborted fetal tissue
IMAGE: Javi_Indy.Shutterstock
Like The College Fix on Facebook / Follow us on Twitter