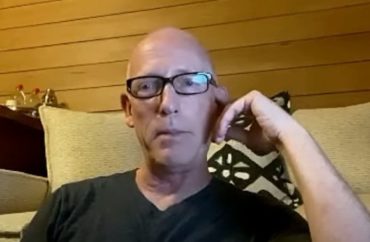 Never Trump and pro-Trump groups labeled as 'far-right'
A non-peer reviewed paper that examines "right-wing echo chambers on YouTube" labels a variety of commentators as "far-right" including "Dilbert" cartoonist Scott Adams.
Feedback on the paper, titled "Evaluating the scale, growth, and origins of right-wing echo chambers on YouTube," led the researchers to plan a paper revision before seeking official publication in an academic journal. The research team first published the paper in November on arXiv.org, an open publication platform hosted by Cornell University.
The researchers looked at video consumption from 2016 to 2019 and used an algorithm to classify videos from "far-left" to "far-right."
"We are currently in the process of revising the paper with a modified set of categories based on some feedback that we received," Homa Hosseinmardi told The College Fix in an email on January 22. "Specifically, we have created a new category for 'Intellectual Dark Web' (IDW, aka 'Anti-Woke' or 'Anti-Social-Justice-Warrior') which previously we had included as part of the Far Right."
Hosseinmardi is a research scientist at the University of Pennsylvania.
She explained further:
The position of many IDW channels on the L-R spectrum is ambiguous and contested: some people consider them to be gateways to the far right whereas others see them as a totally different species and find the association offensive. Given that it was not our purpose to adjudicate these labels we are now just treating them as their own category.
"We hope to post the revised paper on the Arxiv shortly," Hosseinmardi said. "The paper is a preprint (i.e. not peer reviewed nor yet submitted to a journal) and it is normal for preprints to be revised prior to publication."
The original paper led to some conflicting categorizations.
The YouTube channel "Real Coffee with Scott Adams" is only labeled as "right" while the cartoonist's other YouTube page is labeled as "far-right."
The Fix attempted to reach out to Adams asking his opinion regarding the two labels of his YouTube channels. He did not respond to three emailed requests for comment sent to his listed email address.
MORE: Michigan State gets $585K to study 'far right' social media use
A conservative student group criticized its classification as "far-right" and pointed out that the classification grouped it with its opponents.
"The utter lack of understanding of conservatism and the Conservative Movement by the study's authors is apparent in how they grouped organizations and YouTube channels," Spencer Brown, a Young America's Foundation spokesperson said, when asked by The Fix to comment on the original labels. YAFTV, the conservative group's YouTube Channel, is labeled as "far-right."
"For example, putting YAF's most-requested campus speaker Ben Shapiro alongside those who lob ignorant hate at him—and YAF—is absurd," Brown told The Fix via email.
Daily Wire podcast host and novelist Andrew Klavan was also labeled "far-right" by the research team, as was the Daily Wire page itself. The paper describes Klavan's colleague Michael Knowles the same way.
Klavan did not respond to three emailed requests for comment from The Fix about the labels.
The "far-right" grouping includes Never Trumper Bill Kristol, the libertarian Ayn Rand Institute and Trump-friendly Turning Point USA.
The researchers said that most content on the video website is mainstream and centrist but that there is "a small but growing 'echo chamber' of far-right content consumption."
The paper is written by professors from Harvard, Temple and the University of Colorado, in addition to Penn. It also includes a researcher from the Santa Fe Institute and two from Microsoft Research centers.
MORE: University cancels class on 'far right' taught by journalist who falsely accused ICE agent
IMAGE: Real Coffee With Scott Adams/YouTube
Like The College Fix on Facebook / Follow us on Twitter