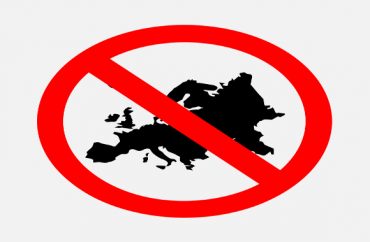 UPDATED
A junior environmental studies major at the University of California Santa Barbara will present a proposal to the school's Academic Senate which will effectively dissolve the (General Education) European Traditions Requirement.
Ciara Thrower says the requirement, "at least one course that focuses on European cultures or on cultures in the European Traditions," has a "bad connotation" and that she's been "bothered" by it since her freshman year. She also claims many classes not in the E.T. are "often Eurocentric," she says.
Thrower's proposal would merge European Traditions into the school's World Cultures Requirement. The Academic Senate "unanimously supports" the idea, according to the Daily Nexus.
German history professor Harold Marcuse said European Traditions "was born out of the World Wars" and grew further during the Cold War. "It's just very Eurocentric," he noted.
Marcuse, who wanted the E.T. Requirement gone back in 2002, is assisting Thrower in her efforts. He said one proposal would have completely gotten rid of E.T., but "there was a fair amount of resistance from a few departments."
Nevertheless, a pair of student senators still want it gone:
The resolution, titled "A Resolution To Abandon the European Traditions Requirement," was authored by Off-Campus Senators Kimia Hadidi and Adalis Rojas and passed at the Feb. 19 Senate meeting. However, the resolution supports abandoning the requirement, which is separate from Thrower's proposal.

According to Hadidi, a bulk of high school history already revolves around Europe — a redundancy with the European Traditions requirement.

"If we do want to learn about other cultures, we should have that option to do it," she said, "as opposed to just having a European Traditions where it's one class, [and] in a World Cultures where it's another, why not combine the two?" she said.

After gaining the Senate's approval, Thrower said her next step is to present her proposal to the UCSB Academic Senate on March 12 and focus on other universities across the country who have abandoned their versions of the requirements in favor of a more holistic education.
According to the UCSB website, students can choose from quite a few courses to satisfy the European Traditions Requirement, including several "World History" courses, "History of Philosophy," and "Women, The Family, and Sexuality in the Middle Ages."
The World Cultures Requirement, into which Thrower wants E.T. to merge, has many more offerings and its subject matter appears to overlap with many Ethnicities Requirement courses.
UPDATE: This article was edited to include a better description of the European Traditions Requirement.
MORE: Museums need to 'reconsider' European art exhibits b/c white supremacy
MORE: Oxford may drop epics from classics curriculum
IMAGE: Shutterstock.com
Like The College Fix on Facebook / Follow us on Twitter