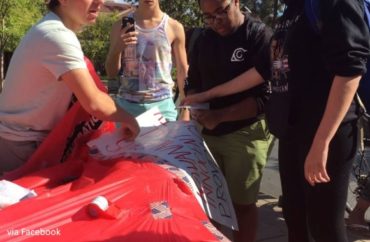 A tabling effort Tuesday by the Stanford University College Republicans prompted peers who disagreed with the group's pro-Brett Kavanaugh message to erupt in anger, ripping signs, tossing water and paint their way, and even prompting a physical altercation.
Stanford College Republicans President John Rice-Cameron said one counter-protester, student Melinda Hernandez, shoved him after he filmed her attempting to vandalize a sign.
"She comes up and puts her hand on the sign as if she's going to rip it up, so I take out my phone and record her, and she said, 'Why the fuck are you recording me?' In an attempt to defuse the situation, I put the phone away."
He said she then got in his face and pushed him back "forcibly."
"I wasn't hurt, I wasn't injured, but I was assaulted," he told The College Fix. "I called the police and pressed charges. … At the end of the day we need to send a message that assault is unacceptable. … No student, regardless of their point of view, should ever have to fear for their safety on campus."
Hernandez did not respond to an emailed request from The College Fix on Wednesday for comment. The Stanford Daily reported that Hernandez claims she just touched him on the chest after he "refused to stop video recording her without her consent."
Stanford Department of Public Safety spokesperson Bill Larson told The College Fix via email that "the male victim stated that he was shoved in the chest by the hand of the female suspect during a verbal disagreement. There was no obvious physical injury and the victim declined to be evaluated by paramedics. At the request of the victim, the suspect was placed under a Private Person Arrest for Battery by Stanford Deputies and issued a citation. The case will be submitted to the District Attorney's Office for review."
The incident was one part of a longer tabling effort by the College Republicans to show support for the embattled U.S. Supreme Court Justice. Their signs contained messages such as "Stanford College Republicans stands with Brett Kavanaugh," "Kavanaugh is innocent until proven guilty," and "change my mind."
The tabling, which took place from 11 a.m. to 4 p.m., drew a wide range of negative reactions from peers, who ripped their signs, threw water and paint on the group, and shouted profanity at them, according to Stanford College Republicans Facebook posts.
"SCR experienced the violent and totalitarian behavior of the unhinged Stanford left," one post stated.
In another, they added "SCR members were harassed at yesterday's 'Change My Mind' table throughout the day. Leftists vandalized and destroyed our signs, threw paint and water at our members, and hurled insults and profanities for hours."
In addition to the typical "fuck off" comments the group received, students upset by the display also told the group things such as "your sign is threatening to me," "you are making people feel unsafe," "you guys are insensitive to sexual assault survivors," and "you guys don't have the right to be on campus." 
MORE: Campus mob enraged by 'Confirm Kavanaugh' display 
Like The College Fix on Facebook / Follow us on Twitter