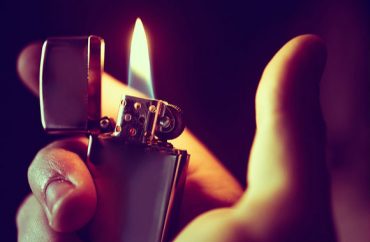 Warning for college students who publicly suggest they'll host an event to discuss "what burning an American flag might achieve," and then burn a flag if they feel like it:
Don't be surprised if a bunch of veterans on motorcycles shows up.
Dartmouth College student Timothy Messen wrote a blistering column Thursday that said without evidence that President Donald Trump's November election victory was followed by "an increase in sexual and racial violence."
MORE: Students vandalize flag in wake of Trump presidency
Citing Trump's past suggestion that flag burning be made a crime – which is not going to happen – Messen told his readers that "the best way to defend our rights is to exercise them." He invited everyone to a possible flag-burning on campus Friday to coincide with Trump's inauguration.
Whoops. The Dartmouth reports:
Members of Rolling Thunder New Hampshire Chapter 2, a Claremont-based branch of Rolling Thunder arrived at the middle of the Green prior to the student demonstration. …

"We had heard a rumor from somewhere that someone was going to be up here protesting, burning flags," said Jim Campbell, a member of Rolling Thunder New Hampshire Chapter 2. "So we put some emails out, some texts, and got a bunch of guys to come up and brought up our flags to show our support for not burning the flag."

MORE: American U. employee won't be fired for rescuing burning flag

Campbell estimated that there were approximately 25 counter-demonstrators from across several organizations, including the Combat Veterans Motorcycle Association and the Live Free or Die Riders, also based in Claremont.
BREAKING: Crowd gathers on the Green for a discussion on flag burning https://t.co/v354XxEHZV

— The Dartmouth (@thedartmouth) January 20, 2017
Seeing the flag-waving motorcyclists, Messen quickly pivoted and read a statement that "clarified he would not burn a flag" but went on to criticize the new president's "policies and cabinet selections," The Dartmouth says:
Messen was also cut off for several minutes as counter-protestors recited the Pledge of Allegiance. Several Safety and Security officers as well as Hanover Police officers surrounded the scene.
Boo to this Rolling Thunder chapter for the heckler's veto, but suggestion for Messen: Next time, try texting and word of mouth if you want to burn a flag unencumbered.
MORE: College's donors support decision to remove American flag
MORE: Mizzou students organize ISIS flag burning
Like The College Fix on Facebook / Follow us on Twitter
IMAGE: Piotr Zajda/Shutterstock