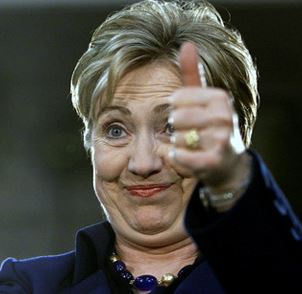 This semester, Rutgers University offered an elective called "A Woman for President?" – but perhaps it should have been called "Worshiping Hillary 101."
The 10-week spring 2015 seminar at the public university was taught by Ruth Mandel, director of the Eagleton Institute of Politics.
"I've come to see this as her destiny," Mandel told Rutgers Today this week about Clinton's path to the presidency. "But I've learned that in electoral politics nothing is inevitable."
Meanwhile, Mandel created a small but loyal group of students who are "Ready for Hillary."
"A focal point of the seminar will be the life and career of Hillary Rodham Clinton, the sole woman so far with a realistic chance to make the presidential breakthrough, the first woman to be taken seriously as a viable major party nominee," the class description states. "We will devote special attention to Clinton's 2008 presidential campaign and her potential 2016 candidacy."
According to Rutgers Today, the small group of first-year, mostly female students in the class took a field trip to the Clinton Global Initiative in New York, where they met with the former first lady and posed for a photograph with her. (Aww, how cute).
And one of the seminar's guest speakers was Karen Kominsky, director of the 2008 Hillary Clinton for President Campaign in New Jersey, who told the class "that even though Clinton won the New Jersey Democratic primary by a wide margin, being a woman candidate for a national office is never an easy feat," Rutgers Today reports.
The course also delved into Shirley Chisholm, Geraldine Ferraro and Sarah Palin. But the main focus was Clinton. That, and how much America needs a president with a vagina, apparently.
"Electing a woman president will lift us up to a place we don't even know about," Kominsky had told the class. "It would be so empowering for women and girls and would change my life, my kids' lives and your life."
The message was received.
"This seminar made me understand just how important it is for all of us to have a woman as president," student Skyler Bolkin told Rutgers Today. "It's so exciting because Hillary Clinton has a much greater chance than any other woman now or in the past."
Added undergrad Damilola Onifade: "Without a woman in the executive office, it will always remain this negative stigma that a woman cannot handle being president. It diminishes the equality we speak of as a nation and presents women as good but not good enough."
Like The College Fix on Facebook / Follow us on Twitter
IMAGE: BuffletoBlog