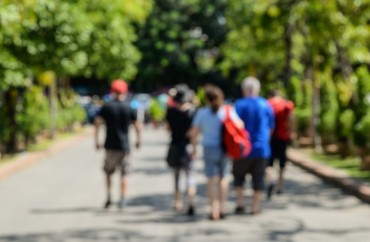 'For those who want to talk or reflect about their concerns …'
Case Western Reserve University, a private Cleveland-based institution, is hosting a "safe space" for the campus community in response to the Republican National Convention and national political and racial unrest.
"Last week's tragedies have horrified us all and raised profound questions for our country. Amid our shock and grief, we also recognize that our city soon will host the Republican National Convention (RNC), an event that is expected to draw dozens of protests—and could see a significant degree of conflict," the July 11 memo stated.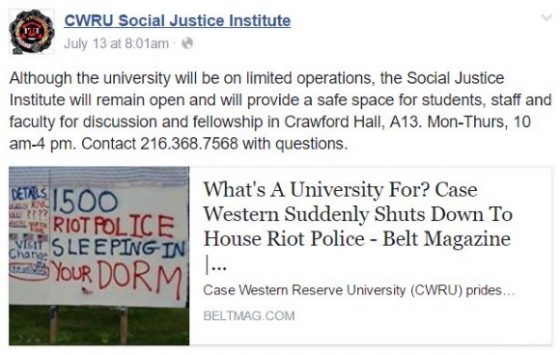 It added that, in response, school leaders decided to significantly reduce activities on campus during this week, July 18 through July 21, including summer school.
The memo goes on to spell out how the decision impacts students, faculty, staff and others, and then includes the on-campus support to be up and running this week, including a "safe space."
The memo states in part:
Counseling and Other Support

University Counseling Services will continue to offer walk-in services for students who want to talk with someone about their concerns related to recent events and/or the upcoming convention.

The university's Employee Assistance Service will have a counselor available on campus during the workday for staff or faculty who wish to talk about their concerns.

Working in collaboration with the university's LGBT Center, the Social Justice Institute will host a "safe space" adjacent to its offices (A15C) in the basement of Crawford Hall during the week. The Interreligious Council also will house a safe space for those who want to talk or reflect about their concerns at the Interfaith Plaza, located just east of the Church of the Covenant, 11205 Euclid Ave. Please contact these offices for schedules and other information.
One big concern appears to be the fact that the campus is hosting police officers for the week.
In announcing the safe space on its Facebook page, the university's Social Justice Institute posted an op-ed published by a regional news outlet written anonymously by a Case Western educator upset by the turn of events.
"Case Western Reserve University, which 'improves and enriches people's lives through research…and education,' will be ground zero for the storm troopers you will watch on national news next week," the scholar wrote. "When the university realized that this might not be the wisest thing for an institution of higher learning to do, they opted for the solution I'm sure any of us would choose. They decided to take a break, for one week only, from being an institution of higher learning. … When you are done, you should traipse down to the university bookstore where Ann Coulter will gladly sign your favorite copy of her forthcoming masterpiece, In Trump We Trust."
MORE: 'Safe place' set aside for those upset at campus talk on transgenderism
Like The College Fix on Facebook / Follow us on Twitter
IMAGE: Shutterstock