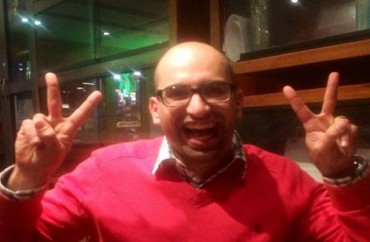 Embattled professor Steven Salaita this week charged University of Illinois officials with "intentionally destroying evidence" and "asked for the University to preserve all evidence in [his] case."
Salaita's history over the past year has been a rollercoaster: Initially hired by the U.I. for a position teaching American Indian Studies, the offer was later rescinded after several examples of his virulent anti-Israel tweets came to light.
The university recently faced a scandal where school officials "conducted official business and discussed controversies on email accounts that they didn't make available for public records requests." U.I. withheld some FOIA solicits pertaining to the Salaita matter.
The Daily Illini reports on the latest Salaita happenings:
In a motion filed late Tuesday, Salaita charged officials for intentionally destroying evidence and asked for the University to preserve all evidence in the case. Salaita's lawsuit was filed in January after the University rejected his appointment.

These motions come after the University released 1,100 pages of personal emails that were not included in Freedom of Information Act requests.

Within the released emails, [former Chancellor Phyllis] Wise wrote that University spokesperson Robin Kaler warned her not to use email.

"We are doing virtually nothing over our Illinois email addresses. I am even being careful with this email address and deleting after sending," Wise wrote.
RELATED: With FOIA lawsuit, Salaita kerfuffle morphs into a war of attrition.
Omar Shakir, one of Salaita's representatives with the Center for Constitutional Rights, said Salaita's legal counsel does not know the full extent to which the University deleted evidence.
Shakir said that if any records/evidence were destroyed, school officials would be "in violation of clear obligation, not only under state law but also to the courts."
Like The College Fix on Facebook / Follow us on Twitter