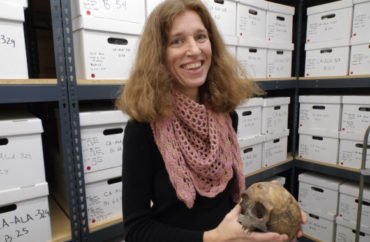 A San Jose State University anthropology professor who sued the school to restore her access to the school's human remains collection was denied by a federal court last week, keeping the school's ban in place.
In February, Professor Elizabeth Weiss sued SJSU after the school barred her from the human remains collection, which she used to conduct research.
Weiss argued the school had retaliated against her because of her views on "repatriation," or the re-burying of bones believed to be of Native American origin.
But the lawsuit was dismissed by U.S. District Court Judge Beth Labson Freeman, who determined Weiss had failed to include the Muwekma Ohlone Tribe, whose ancestors make up a portion of the SJSU collection, as a defendant.
The tribe had called for Weiss to be barred from the remains collection, calling her public statements "prime examples of colonial violence."
But pursuant to federal law, the tribe is exempt from lawsuits, thus making it impossible for Weiss to take action to move her lawsuit forward.
Weiss' attorneys argued the ruling effectively means a public university cannot be sued for a First Amendment violation if the school has a partnership with a Native American tribe.
"I am in a Catch-22," Weiss told The College Fix in an email last week.
Judge Freeman further rejected Weiss' contention that other faculty members expressing disdain of her opinions amounted to "adverse employment actions."
"As this Court has previously held, the First Amendment cannot be 'simultaneously use[d]…as a shield (to protect her own statements) and a sword (to silence the First Amendment rights of professors to respond),'" Freeman wrote.
The lawsuit was the culmination of years of conflict between Weiss and the anthropology department, with her department head publicly calling her a "racist."
Late last year, SJSU administrators barred Weiss from handling human remains after she posted a photo on social media of her holding a skull with the caption: "So happy to be back with some old friends." Weiss said she was expressing relief after being barred from the school during the COVID-19 epidemic.
But soon, SJSU Provost Vincent Del Casino expressed outrage over the photo in a letter to the university community that said the tweet had "evoked shock and disgust from our Native and Indigenous community on campus and from many people within and outside of SJSU."
University officials then responded to Weiss' tweet by denying her access to the collection of skeletal remains, which she has long used and requires for her research. The department also prohibited her from taking x-rays and photographs of these remains, a practice the lawsuit calls "essential to her research and writing."
Finally, they eliminated Weiss' position as curator of the remains, a post she had held for 17 years.
It wasn't her first run-in with the administration.
In 2020, Weiss and co-author James Springer issued a book titled "Repatriation and Erasing the Past" that criticized repatriation laws that require human remains to be returned to Native American ancestral burial grounds. The authors argued that ideology should not trump science, and that remains with only a tentative relationship to the tribes that claim them should be kept for research.
Weiss says the book triggered a number of punitive actions against her by her department superiors.
Further, in August 2021, Weiss penned an op-ed for the San Jose Mercury News that argued against a proposal in the California legislature to re-bury all Native American skeletal remains within five years. After the column ran, SJSU received a number of vitriolic emails demanding Weiss be punished or terminated.
Weiss is represented by the Pacific Legal Foundation, a nonprofit that defends individual rights and liberties.
MORE: San Jose State professor sues school after department called her 'racist,' blocked research
IMAGE: Elizabeth Weiss
Like The College Fix on Facebook / Follow us on Twitter