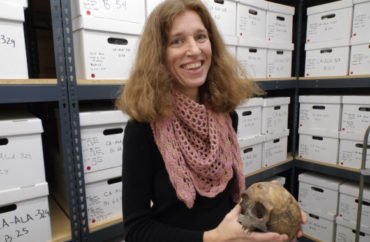 A San Jose State University anthropology professor has filed a lawsuit against the school after her department publicly deemed her a "racist" and locked her out of its collection of human remains, of which she had previously been the curator.
Elizabeth Weiss, a tenured professor who has been at the public institution since 2004, seeks to overturn the alleged punitive actions toward her, including allowing her back into the human remains collection where she can continue her research.
"The first time I sought legal help was after the meeting where my department chair called me a 'racist,'" Weiss told The College Fix in a phone interview. "I felt that was serious enough that I had to get legal help."
Weiss's lawsuit alleges the school has conducted a "poorly disguised campaign of retaliation" against her because of her views on issues relating to the repatriation of human remains. Weiss has argued that human remains should not be re-buried, as they still hold valuable information.
"I do have a strong position against repatriation, and I've been very honest about that position from the get-go," Weiss said.
"But I've never broken the law" on repatriation law, she said, adding that "I have always done my duty."
In August of last year, Weiss wrote an op-ed for The Mercury News that argued against a proposal in the California legislature to re-bury all Native American skeletal remains within five years. After the column ran, San Jose State University received a number of vitriolic emails demanding Weiss be punished or terminated.
More controversy followed on September 18 after Weiss tweeted a photo of herself holding a skull from the SJSU collection. Expressing her delight in being able to return to the collection after the COVID-19 pandemic, Weiss posted the caption, "So happy to be back with some old friends."
A week later, SJSU Provost Vincent Del Casino expressed outrage over the photo in a letter to the university community that said the tweet had "evoked shock and disgust from our Native and Indigenous community on campus and from many people within and outside of SJSU."
Del Casino claimed there were "many things in the image itself that do not align with the values of SJSU or of academic inquiry."
But Weiss noted the SJSU Anthropology Department had several similar pictures featuring different scholars up on its website at the time of her tweet. In March 2021, the SJSU newsroom published an article honoring the recipients of 2021 faculty awards, which contained an extremely similar picture of another SJSU professor holding a skull and smiling.
Weiss said since she started at SJSU there were "numerous times" that campus officials asked her to come in and pose for pictures with human remains.
"This was completely considered normal," she said.
Nonetheless, university officials responded to Weiss' tweet by denying her access to the collection of skeletal remains, which she has long used and requires for her research. The department also prohibited her from taking x-rays and photographs of these remains, a practice the lawsuit calls "essential to her research and writing."
Finally, they eliminated Weiss' position as curator of the remains, a post she had held for 17 years.
"San José State University is aware of the filing and is currently reviewing," said a spokesman for the school in an email to The College Fix.
Weiss told The Fix that she didn't believe the photo was the reason the school punished her.
"When the Mercury News covered the controversy about the photo, it made it look like that's how things started, but it wasn't. It really, of course, started with the book," she said.
In 2020, Weiss and co-author James Springer issued a book titled "Repatriation and Erasing the Past" that criticized repatriation laws that require human remains to be returned to Native American ancestral burial grounds. The authors argued that ideology should not trump science, and that remains with only a tentative relationship to the tribes that claim them should be kept for research.
The book triggered a number of punitive actions against Weiss by her department superiors.
Academics across the country — including some at SJSU — signed an open letter urging the University Press of Florida to reconsider publishing the book. Director Romi Gutierrez refused to cancel publication, but did issue a statement apologizing for all the "pain" the book caused.
"It was not our intent to publish a book that uses arguments and terminology associated with scientific racism," Gutierrez said.
In June, Weiss' department chair, Roberto Gonzalez, and SJSU College of Social Sciences Dean Walter Jacobs held a symposium for the Council of Colleges for Arts and Sciences titled "What to Do When a Tenured Colleague Is Branded a Racist."
During the symposium, Gonzalez referred to Weiss as his "racist colleague," saying her research "borders on professional incompetence."
The department did not always look unfavorably on Weiss's positions.
Several years ago Gonzalez praised her for her ability to "spark lively discussions among various stakeholders" and to "boost the department's national reputation as a center that fosters creative and unorthodox viewpoints on important issues." In 2019, the SJSU College of Social Sciences gave her the Austin D. Warburton Award of Merit.
"I think what a lot of the activists really don't like is when I get something in a mainstream source," Weiss told The Fix. "So, the book published by University Press — a talk at a national conference — the op-ed in the Bay Area newspaper. I think that's really what sets it off."
The controversy about Native American remains were not Weiss's only dust-ups with her department. In late 2020, she rebuffed a suggestion that faculty in the department cite more research from black authors, saying the quality of research should be colorblind.
"Although the intent of Cite Black Authors may be well-meaning," Weiss wrote back to her colleagues, "as a scholar in search of objective knowledge, I encourage researchers to look for the best source material and realize that an author's ethnicity, race, or color of their skin has no actual bearing on the validity of their contribution."
Gonzalez would later criticize her, saying she responded to the Cite Black Authors email in an "extremely insensitive way."
"Can you imagine the reaction of graduate students reading this kind of thing from a fully-tenured professor?" Gonzalez said. "It was devastating."
Weiss said a number of her projects are now not going to happen because of her banishment from the collections room. She was in the process of sorting out human bones that had been mistakenly placed with the collection of animal remains.
Further, she had been researching evidence of anemia and other health factors within the remains that might help determine whether certain diseases affected human growth patterns at the time. And she was going to start a project to study the relationship between osteoporosis and arthritis in ancient people.
Weiss said that in being barred from the collection, she is also being denied access to photos and x-rays of the bones, and many of the remains she is now unable to access aren't even covered under the Native American repatriation laws.
Weiss is represented by the Pacific Legal Foundation, a nonprofit organization that defends individual rights and liberties.
MORE: Professor condemned as 'racist' by her department after supporting colorblind research
IMAGE: Elizabeth Weiss
Like The College Fix on Facebook / Follow us on Twitter