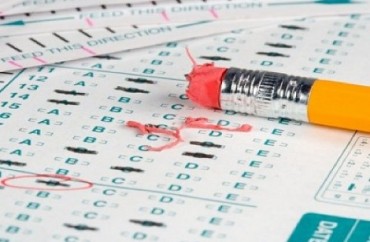 The Scholastic Aptitude Test, routinely utilized by colleges as part of the admissions process, will begin making use of an "adversity score" assigned to test takers which takes into account their social and economic backgrounds.
The test will consider fifteen factors, including the crime rate and poverty level of a student's high school neighborhood.
According to The Wall Street Journal, fifty colleges beta-tested the score last year.
David Coleman, chief executive of the SAT-supervising College Board, says there has been concern about income inequality's effect on SAT results for years now.
"There are a number of amazing students who may have scored less [on the SAT] but have accomplished more," Coleman said. "We can't sit on our hands and ignore the disparities of wealth reflected in the SAT."
Yale is one of the institutions which participated in the beta test, and as a result it nearly doubled the number of "low-income/first-generation-to-attend-college students."
According to the article, the College Board attempted a similar effort twenty years ago in which it created "an expected SAT score based on socioeconomic factors" including (if schools desired) race. This new endeavor is superior, the College Board's Connie Betterton says, because it does not use race and is "steeped in more research."
On the other hand, Georgetown University's Anthony Carnevale claims the adversity score's purpose is "to get to race without using race."
The new score—which falls on a scale of one through 100—will pop up on something called the Environmental Context Dashboard, which shows several indicators of relative poverty, wealth and opportunity as well as a student's SAT score compared with those of their classmates. On the dashboard, the score is called "Overall Disadvantage Level."

An adversity score of 50 is average. Anything above it designates hardship, below it privilege.

The College Board declined to say how it calculates the adversity score or weighs the factors that go into it. The data that informs the score comes from public records such as the U.S. Census as well as some sources proprietary to the College Board, Mr. Coleman said.

The College Board began developing the tool in 2015 because colleges were asking for more objective data on students' backgrounds, said Ms. Betterton. Several college admissions officers said they worry the Supreme Court may disallow race-based affirmative action. If that happens, the value of the tool would rise, they said.
John Barnhill, the assistant vice president for academic affairs at Florida State University (which saw a rise of five percent in nonwhite enrollment last year due to use of the adversity score) says "If I am going to make room for more of the [poor and minority] students we want to admit and I have a finite number of spaces, then someone has to suffer and that will be privileged kids on the bubble."
MORE: If you favor standardized testing, you're racist
MORE: College Board: Only 42% of high school grads are 'college ready'
Like The College Fix on Facebook / Follow us on Twitter