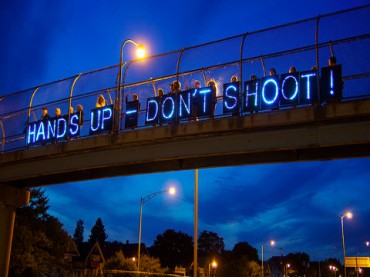 In keeping with what seems to be a college … "tradition," the Associated Press reports on how — now that the Ferguson grand jury determined there was no truth to the claim that Michael Brown had his hands up when confronted by officer Darren Wilson — it isn't really important if Brown had his hands up in a "don't shoot" gesture.
To some, it doesn't matters whether Brown's hands literally were raised, because his death has come to symbolize a much bigger movement.

"He wasn't shot because of the placement of his hands; he was shot because he was a big, black, scary man," said James Cox, 28, a food server who protested this week in Oakland, California.

Protester Taylor Gruenloh, a 32-year-old white man from nearby Florissant, said that while he believes there's truth to claims that Brown had his hands raised when shot, the lack of proof makes little difference to protesters who have found it to be a unifying force.

"Even if you don't find that it's true, it's a valid rallying cry," he said. "It's just a metaphor."

Architect Evan Chakroff was among the protesters this week in Seattle. He said the "Hands Up" gesture is far from a literal representation of the circumstances of Brown's death.

"My sense is that it's totally symbolic and a way of representing powerlessness" in the face of inequality and militarized police, he said.

Several demonstrators said focusing on the exact circumstances of Brown's shooting misses the point of the slogan.

"This is not about one boy getting shot in the street, but about the hundreds just like him who have received the same callous and racially-influenced treatment," said Oakland, California, protester Gabe Johnson, a middle school teacher. "So ultimately, no, it doesn't matter at all if somehow we can say for sure whether this one young man really said these words or had his hands up."
Elizabeth Brondolo, a psychology professor at St. John's University who specializes in the effects of race on mental and physical health, adds to the muddlement: "The truth always really matters, but it's important to recognize that past experience to stereotypes also influences the perception of hands being raised."
This is similar to instances on college campuses where "hate crimes" revealed to be hoaxes have often resulted in students and school officials alike claiming that "it's no big deal," and "ultimately, a good thing."
Take this instance, for example, at Sweet Briar College as reported by The College Fix:
While posting these extremely hurtful labels, I had one thing in mind. My mission was to show others that words can still have an extreme impact, and the past still resonates with us all. While moving forward, we can never really shake the past. The past is a part of us and we are a part of the past. While they did not necessarily know this before, we are all equal and nobody deserves to be treated unfairly.

What has occurred on our College campus since Thursday morning points directly to the fact that sometimes our actions and words, no matter how well intentioned, backfire unexpectedly and inflict pain, hurt, and suffering upon others around us.
The first is a statement by the student who effected the hoax, and the second is a response by the college's president. Both of them would likely make Professor Brondolo happy.
And there are many, many more such examples.
Truth? Say what?
Like The College Fix on Facebook / Follow us on Twitter
IMAGE: Light Brigading/Flickr