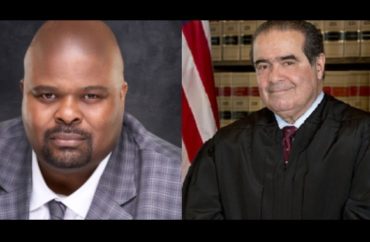 Because he objected to a racial bias claim in a death penalty case
The late Supreme Court Justice Antonin Scalia "was basically a Klansman," according to a law professor at Emory University.
Professor Darren Hutchinson tweeted what appeared to be a Facebook status where he made the comments about the late conservative justice.
Hutchinson (pictured), the law school's chief diversity officer, said he is teaching a critical race theory seminar that included reviewing a 1987 Supreme Court decision on racial bias and the death penalty.
Justice Scalia promoted the agenda of the Ku Klux Klan because he voted with four other justices in McCleskey v. Kemp to reject a racial bias claim in a death penalty case, according to the professor. Hutchinson cited a memo that Scalia wrote to other justices where he explained his decision and said even if racial bias was shown in sentencing, it would not change his opinion. The late justice was a devout Catholic, which made him a member of a group targeted for violence and hatred by the KKK.
The comment from Hutchinson drew criticism from George Washington University law professor Jonathan Turley. Hutchinson made his Twitter account private this morning after publication of Turley's blog. The College Fix archived his Facebook status (below).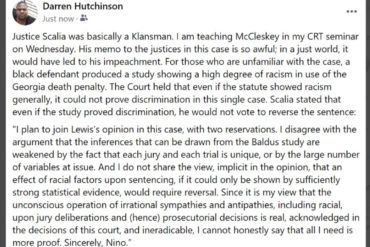 "The case has long generated debate with many law professors disagreeing with the Court's holding," Professor Turley wrote on his personal blog. "However, one can disagree with the Eleventh Circuit and the Supreme Court without labeling such jurists as white robbed racists."
Turley wrote that Hutchinson's KKK comparison would likely dissuade students in his class from making arguments in support of the decision, thus inhibiting free discussion.
Turley wrote:
It is also concerning that this is a reference to Hutchinson's class. If the professor maintains that anyone supporting the decision is effectively a klansman, it is hard to see how students in his class would feel comfortable in voicing such a view. Indeed, such pedagogical positions may explain why 60 percent of students reportedly fear sharing their views in classes.
The GWU professor noted that Hutchinson's titles included "director of community and inclusion."
MORE: Professor turns American flags into Klan hoods, calls it art
IMAGES: Supreme Court of the United States/Wikimedia Commons; Emory University; JonathanTurley.org
Like The College Fix on Facebook / Follow us on Twitter