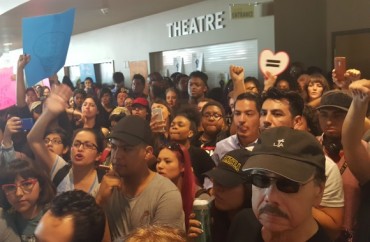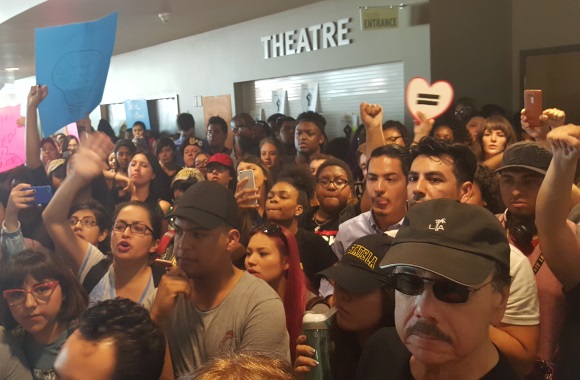 It's been six days since I found myself stuck between a thick glass window and a throng of angry students blocking the entrance to a Cal State Los Angeles theater, but I can still remember it clearly.
The demonstrators were upset conservative Ben Shapiro was slated to speak in the theater and they'd blocked the door leading into the venue.
As a journalist there not only to cover the protest, but also the speech, I made my way as far as I could toward the door. The entire lobby was choked with student protesters, but the closer I got to the door, the more intense things got.
People held signs touting various "diversity" slogans, and one or two rainbow flags waved above the crowd. Chants and shouts of "no hate speech" and "this is our school" peppered the moment.
Finally, I managed to squirm my way about 15 to 20 feet from the door. Then I could go no farther. Student protesters had filled the narrow entryway, and anytime someone would try to enter, they would throw up their hands, form a human wall-shield, and chant "no violence."
I watched the intensity, the anger on the faces of students as they screamed and scowled at the Young Americans for Freedom representatives there trying to host the event. I watched as campus visitors tried to gain access and were physically blocked by protesters who looked all too willing to fight if it came down to it. The anger and vitriol was palpable.
RELATED: Violence erupts as protesters block entrance to conservative's speech at public university
The lobby was hot. Sweat dripped from foreheads. Oxygen felt low. I ended up crammed between the throng and a large window near the entrance, and at one point was jostled and rocked a bit as the crowd had started a shoving match, one of several throughout the course of the demonstration.
It prompted a flashback to the time I was caught in a mosh pit in college: No matter how hard I had tried, I couldn't escape the frenzied circle, and I was rocked so hard in the head that I'm pretty sure I received a concussion.
At Cal State LA, I remembered thinking: "If this thing gets ugly, my head could easily end up in the glass behind me." I started to debate whether staying so close to the entrance was a safe choice.
Journalists intrinsically want to get the story. At Cal State LA, my inner journalist battled my inner wife-and-mother-of-two-kids. I wasn't the only one. Several local television news cameramen and I exchanged knowing glances and shrugs, like: How long before this powder keg blows?
Yeah, campus cops were there. They did little to nothing to help guests in and get protesters out of the way. Passive is how I'd describe them. I felt they'd been told to stand down unless and in case of emergency.
As I stood squashed between the mob and the window, a large black female student emerged next to me and yelled: "He called us animals. F*ck that." She continued to yell, flailing her arms and shouting loudly. I couldn't help but think "I highly doubt Ben Shapiro has ever called black people animals." Was this mob misinformed? Furious at false narratives?
Soon after, another student flanked me. Let's just say it was hard to tell if she just got out of class or prison. About a foot away, she stared at me, hard. I think the old school term for it is "mad-dogging." I decided it was best not to make eye contact, no need to escalate the situation. I knew I didn't pass as a student — too old and too well dressed — not to mention the smart phone in my hand recording the protest and notepad hanging out of my purse. So I didn't acknowledge her stare down, but it continued. My insides started to squirm.
I've taken two years of Krav Maga Israeli self defense classes, so I know how to defend myself, but there is not much a person can do if ten others jump in.
One of the first things they teach you in Krav Maga is if you can avoid a fight, that's the best defense. So I am going to be completely honest here and say I decided to defuse the situation by contorting my face into a sad and concerned-looking grimace. At least that is what my brain told my face to do. What I actually looked like, I don't know. Eventually, she moved on.
I looked toward the door to the theater, wondering what would happen if I tried to enter. I was too afraid to try. Some adult male guests to the speech who had tried to pass the human "no violence" hand-wall-shield had been yelled at, pushed, shoved and the like.
I remained about 15 to 20 feet away from the door and the anger and intensity was still thick in the room. Occasional shoving matches. Chants of "no hate speech." The heat, the crowd, the emotion. It was too much, and I walked out.
That's when I saw a line of people calmly and quietly waiting to get in. I was angry for them. They had a right to gain admittance. They were being denied on the whims and emotions and bullying of students who refuse to hear anything other than what confirms and conforms to their narrow view of the world.
Here is a line of people politely and calmly waiting to get in. Lobby still blocked. pic.twitter.com/S0w31NyzbE

— The College Fix (@CollegeFix) February 25, 2016
I watched as about 15 student protesters madly rushed behind the building when they got wind of the fact that Shapiro would enter that way. Plenty of videos have since been published showing students blocking the back entrance too. I walked back there and saw student organizers being yelled at, called names, told bringing Shapiro to campus incited violence. Yes, there's irony there.
I personally observed at least a half-dozen confrontations between organizers, guests and protesters outside the building as the event progressed. I overheard one female student telling another: "They're only letting white people in." I almost choked out a half laugh, half cry of incredulity.
After about two hours, the throng in the lobby dwindled. By that time, Shapiro had already entered through the back and live-streamed his event. It was time to go.
As I drove home in LA's horrific bumper-to-bumper traffic, I texted one of the organizers. "You get out of the theater room OK?" I asked. "Yep! Had to wait for the crowd to dissipate" came the reply. Apparently, those who had managed to sneak inside the theater to hear Shapiro had to shelter in place until the throng of angry students unblocked the entrances.
Back entrace to theater blocked too. @yaf inside. pic.twitter.com/0blHSrHk4e

— The College Fix (@CollegeFix) February 25, 2016
All the calls for "safe spaces" on campus popped into my mind as I drove. It's all really lip service. The only "safe space" left-liberal students are interested in are campuses at which their views are exclusively promulgated.
Like The College Fix on Facebook / Follow us on Twitter