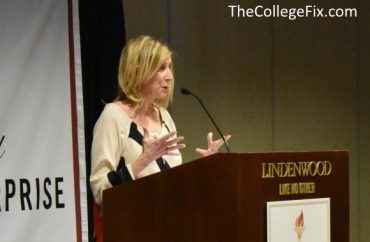 Christina Hoff Sommers calls on students to rally around free speech
ST. CHARLES, Mo. – Can one pinpoint who is leading the assault on higher education? According to noted scholar Christina Hoff Sommers: "It's an axis of intolerance."
"There are the panicky, risk-averse administrators, the theory-besotted radical scholars and the chronically offended students," she said.
She made those comments and more during a recent speech at Lindenwood University and subsequent interview with a The College Fix reporter in the audience.
Hoff Sommers, also known as the "Factual Feminist," whose visits to campuses have triggered safe spaces of their own, said protests against speakers with whom students disagree show no signs of ebbing, calling universities "islands of intolerance in a sea of freedom."
(Her comments came just one day before a raucous mob of students shut down a speech by Charles Murray at Middlebury College.)
Hoff Sommers, a feminist and former university professor who has identified herself as a registered Democrat, added that "intolerance is intensifying, so someone like me, who has been speaking for many years and was never protested, it's come to the point because I don't stick to the party line, I'm considered an untouchable and protested."
During Wednesday's event, Hoff Sommers discussed what she called student "tribalism."
"The tribalism is coming from the identity politics. Students are organizing themselves into little groups based on oppression and privilege categories," she said. "Every encounter with a member of a different group is fraught with possibilities of giving offense or being offended."
This sort of social grouping, the scholar added, is "fatal to education." While noting students have their own family and ethnic identities, she mentioned they also belong to civilization and that higher education should extend past the student's own experiences.
"Some students will object, [saying] 'I don't see myself in the curriculum.' You shouldn't see yourself in the curriculum. The purpose of a liberal arts education is to take you outside yourself into a larger world," she said.
In fact, Hoff Sommers said she believes this tribalism is anti-intellectual and "reactionary," betraying the classical liberal ideal that teaches to view each other as individuals.
"But campus intersectionality sees people as members of group and accords praise and blame accordingly. It took us centuries to overcome notions like collective guilt and collective punishment. Why go back," she said.
MORE: Female student rips down flyers touting Christina Hoff Sommers' speech
It'll be up to students to once again make college campuses the bastion of free speech, said Hoff Sommers, calling on millennials to organize to take back their education.
"If our universities change their mission from pursuing truth to protecting feelings, they will have lost their reason for being," she said.
As for students who may be sitting in a classroom afraid to speak up in fear their views may be shouted down, she recommended they join their campus free speech club or create one. Students should rally around free expression and rational, non-politicized scholarship, the scholar added.
"Try to make it bipartisan. The battle against the axis of intolerance is going to take both liberal and conservative students," she said.
In an interview with The College Fix, Hoff Sommers also discussed the recent controversy surrounding conservative provocateur Milo Yiannopoulos. The two have previously appeared together at events on college campuses.
She said she believes he can bounce back from his recent controversial comments regarding homosexual relationships between young and older men.
"Americans are forgiving. We like second acts," she said.
She added she believes he should repudiate the alt-right.
She said he filled a void, which fueled his appeal.
"Milo was sensationally popular on campus because in that hothouse, humorless, totalitarian environment … he was an uncensored, spontaneous, free spirit, capable of saying anything," she said.
Hoff Sommers was at Lindenwood University for its event titled "From Boyz 2 Men: Too Much or Too Little Masculinity." It was hosted by the insitution's Hammond Institute for Free Enterprise, in partnership with the private university's Gender Studies program. Offering the counterpoint to Hoff Sommers was Stony Brook University professor Michael Kimmel.
Kimmel, executive director of Stony Brook's Center for the Study of Men and Masculinities, and Hoff Sommers both offered presentations on masculinity during the event.
"I think the idea of safe spaces is important and here's why: my students are coming in with all kinds of backgrounds now – completely different than the homogeneity that you might have once characterized the American university," Kimmel had said.
Hoff Sommers disagreed.
"I don't understand what you mean about the classroom being a safe space. The world is not a safe space," she said.
MORE: Joe Rogan interviews Christina Hoff Sommers in no-holds-barred interview
Like The College Fix on Facebook / Follow us on Twitter