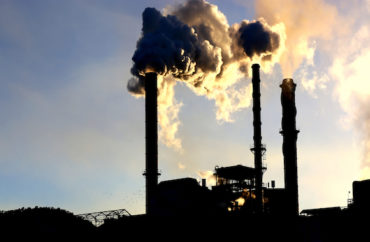 "Breathe in," wrote Michelle Murphy, a Harvard-educated professor of both history and gender studies at the University of Toronto in an article published by Cultural Anthropology. "With each inhalation, the extensive relations of finance capital are pulled into your lungs, passing through membranes, attaching to receptors, rearranging metabolism, altering gene expression."
More specifically, the "extensive relations of finance capital" Professor Murphy is rhetorically telling her readers to inhale are polychlorinated biphenyls, more commonly referred to as PCBs, a family of industrial and commercial pollutants that, despite being largely banned in the United States through the Toxic Substances Control Act in 1979 with limited exceptions, persist today in the environment and in the bodies of many living organisms including humans.
Given that, according to the Environmental Protection Agency, PCBs are considered probable human carcinogens with immunosupressive and endocrine disrupting effects, and are also thought to impact fetal development and the cognitive abilities of children, many people remain concerned about the persistence of these chemicals in the environment and their potential impact on human and animal health.
Yet, according to Murphy, who on her website describes her professional focus as "technoscience as it relates to environmental justice, data politics, chemical exposures, infrastructures, reproduction, Indigenous science and technology studies, race, and colonialism," a perhaps more pressing problem is the harm done to dispossessed communities by environmental and biomedical researchers that pathologize this group of probable human carcinogens.
"Despite often antiracist intentions," Murphy wrote in her Cultural Anthropology article, "this damage-based research has pernicious effects, placing the focus on chemical violence by virtue of rendering lives and landscapes as pathological."
"Such work," she added, "tends to resuscitate racist, misogynist, and homophobic portraits of poor, Black, Indigenous, female, and queer lives and communities as damaged and doomed, as inhabiting irreparable states that are not just unwanted but less than fully human."
Appealing to indigenous feminist scholarship, Murphy invited readers to instead "find other ways of shining critical light on the infernal entanglements of settler-colonial capitalism as expressed through chemical relations."
One means of doing this, according to Murphy, is through the use of "alter-concepts" such as "alterlife," the development of which was funded by the Social Sciences and Humanities Research Council of Canada from 2015 through 2020.
According to Murphy's description of alterlife, "Alterlife names life already altered, which is also life open to alteration."
"It indexes collectivities of life recomposed by the molecular productions of capitalism in our own pasts and the pasts of our ancestors, as well as into the future," she wrote. "It is a figure of life entangled within community, ecological, colonial, racial, gendered, military, and infrastructural histories that have profoundly shaped the susceptibilities and potentials of future life."
"Alterlife," she stated, "is a figuration of chemical exposures that attempts to be as much about figuring life and responsibilities beyond the individualized body as it is about acknowledging extensive chemical relations."
"Forms of alterlife," according to Murphy, "might include chemically altered metabolisms, capacities to digest human-made substances, or bodily phenotypes that develop in responsiveness to both chosen and unchosen chemicals and pharmaceuticals."
"The concept of alterlife," wrote Murphy, "asks for an unflinchingly pessimistic acknowledgment that these chemical relations are racist, harmful, even deadly, and that it is up to you to take on the ways that you are caught up in killing (even if they are killing you too, just more softly)."
Since its development, Murphy's "alter-concept" has served as the inspiration for a short video by "The Feral Theater" in the UK.
According to one puzzled parent of a UCLA student, both the "alter-concept" and the video it inspired have also found their way into a human biology classroom at the school earlier this year.
The College Fix reached out to Murphy via email with several questions pertaining to her "alterlife" "alter-concept."
However, in response to the email sent to Murphy, The College Fix received an automatic reply stating that Murphy would be on a research trip through the beginning of May. The automatic reply also stated Murphy would only be checking her email periodically.
On her website, however, Murphy does provide some additional details regarding the concept of "alterlife," listing an "Alterlife in the Ongoing Aftermaths" project on the site's "Work In Progress" page.
According to the page, her Alterlife in the Ongoing Aftermaths project "works towards decolonial approaches to understanding chemical exposures in the lower Great Lakes" and "is organized around three concerns," although four are explicitly stated.
These include "creating non-damage based accounts of chemical violence," "hold[ing] governments and petrochemical companies responsibile [sic] for environmental violence," "expanding our understanding of industrial chemicals…to view them as structures, not molecules, that extend in time and disrupt land/body relations," and "attend to the possibility of alternative life forms, of life otherwise, and of future survival."
MORE: Biologists: Systemic racism harms birds, mammals, reptiles living in urban areas
IMAGE: Geckoz / Shutterstock
Like The College Fix on Facebook / Follow us on Twitter