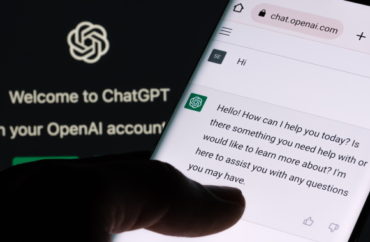 Panelists agreed AI can and will be beneficial for academic research when used correctly
Academic research is consistently subject to and easily influenced by technological innovation, and the fast and unexpected advancements artificial intelligence has made in the past few months are both disrupting and distributing knowledge and academic work, a trio of scholars said at a recent panel exploring the topic.
The Heterodox Academy held a virtual panel discussion April 19 titled "How Will AI Change Academic Research" that aimed to answer whether this new era of technology is different from the major innovations that have come before or whether it is just another step in facilitating academic research.
Panelists included Pedro Domingos, professor of computer science at the University of Washington, Corinne Dalelio, associate professor of communication at Coastal Carolina University, and David Rozado, associate professor of computer science at the New Zealand Institute of Skills and Technology.
Domingos said it is important to distinguish between present technology and technology that will appear in the near future when discussing AI. Describing himself as "pessimistic" on the topic, he said many of the predictions and fears associated with AI aren't plausible today, but should not be discredited as "hype" or impossible in the future.
"I think one thing that we've learned with machine learning in the last decade or two is that in the end, patches don't work," he said. "Like Band-Aids, they work narrowly to fix something. But … usually those manual patches also wind up having nasty side effects and making some things worse than they were before."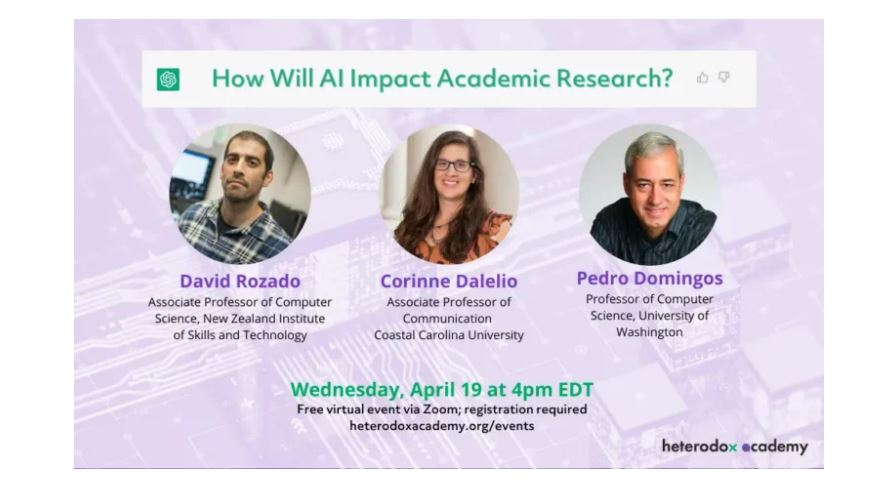 Domingos argued the incentive system of scientific research in academia is already broken, independent from the influence of AI.
"You get rewarded for publishing millions of papers, and for … spinning the wheels ever faster," Domingos said. "And I think AI is a very powerful tool, it's like an amplifier for whatever you want to do, right?"
"If it's maximizing engagement, well, it will then have some side effects," he said "I hope that AI is going to force us to adjust our incentive system, because it will drive the old one to absurdity."
Domingos said he doesn't see AI having the ability to write a quality scientific report anytime soon. As both an AI user and an AI researcher, he said he hopes in the near future AI will have the ability to justify individual statements it generates with facts, rather than just fabricating information as it will do now.
Dalelio said in order to best utilize AI in terms of research, researchers must begin developing a taxonomy to determine what type research AI is best suited for, as well as determine ethical interferences or biases researchers take account for.
Rozado said shortly after the release of ChatGPT, he applied 15 political orientation tests to it and 14 of those tests diagnosed responses as manifesting preferences for left-leaning perspectives.
There were attempts discussed at ChatGPT for the program to become more agnostic and give answers such as, "I don't have political opinions," and then provide the best viewpoints including both left and right perspectives. Regardless, these biases still emerge as more questions are asked, the scholars agreed.
"That obviously renders the question where those preferences come from?" Rozado said. "Is it from the training data? Is it from the man feedback, reinforcement learning module?
" …I think that's a big issue, biases in these models, especially if people start to trust them as sources of truth, are dangerous, because these systems are going to have an enormous amount of power to shape human perceptions," he said. "And if they are not aligned with truth seeking, that's obviously a very powerful tool to manipulate people, either on purpose or not on purpose."
The panelists agreed AI can and will be beneficial for academic research when used correctly.
Domingos said students should still pursue whatever fascinates them regardless of their fears or predictions of how AI will affect that particular field.
"You should learn how to use AI to pursue research in that field," Domingos said. "This is already happening. You want to learn and discover new ways to use AI for whatever it is that you want to do. And if you do that, you will be able to do more research and better research and get farther than you would have otherwise."
"It'll be exciting, maybe also a little exhausting, but that's a worthwhile trade off."
MORE: ChatGPT makes up stories to accuse professors of sexual misconduct
IMAGE: Ascannio / Shutterstock
Like The College Fix on Facebook / Follow us on Twitter