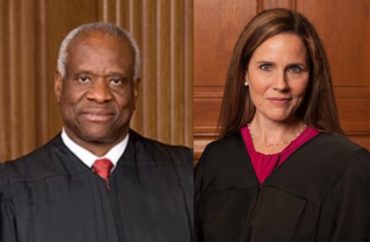 'The President should act when MAGA justices issue high-stakes rulings that are based on gravely mistaken constitutional interpretations'
President Joe Biden should ignore the rulings of "MAGA justices" in order to preserve "democracy," and "the rule of law" two academics wrote.
San Francisco State University political scientist Aaron Belkin and Harvard Law School Professor Mark Tushnet made the plea to President Biden in a blog post at Balkinization, a legal scholar website. Belkin is also the president of Take Back the Court, a liberal advocacy group that wants to expand the size of the Supreme Court.
The group claims that "Republicans stole the Supreme Court to obstruct progress and undermine democracy."
Tushnet is the former president of the Association of American Law Schools.
They wrote:
We urge President Biden to restrain MAGA justices immediately by announcing that if and when they issue rulings that are based on gravely mistaken interpretations of the Constitution that undermine our most fundamental commitments, the Administration will be guided by its own constitutional interpretations.

We have worked diligently over the past five years to advocate Supreme Court expansion as a necessary strategy for restoring democracy. Although we continue to support expansion, the threat that MAGA justices pose is so extreme that reforms that do not require Congressional approval are needed at this time, and advocates and experts should encourage President Biden to take immediate action to limit the damage.
Biden should not ignore every ruling from conservative justices, just the "high-stakes rulings" that in his opinion are a form of "gravely mistaken constitutional interpretation."
Biden must ignore the rulings "when presidential action predicated on his administration's constitutional interpretations would substantially mitigate the damage posed by the ruling in question."
MORE: Scholar wants Trump barred from 2024 election
The two addressed concerns that future Republican presidents might also ignore the rulings by arguing that they probably will ignore the Supreme Court regardless.
"The GOP's failure to hold President Trump accountable for inciting a violent coup is perhaps the clearest of many indications that party leaders and followers are no longer committed to democracy or the rule of law," Tushnet and Belkin wrote. "It is not hard to imagine that a President Trump or DeSantis would circumvent or ignore rulings issued by a liberal Supreme Court."
"In light of Dobbs [the decision that returned issue of abortion to the states] as well as ongoing revelations of judicial corruption, a solid majority of the public understands the danger posed by unchecked MAGA justices," the two stated. "Americans are more open than ever to the argument that MAGA justices serve plutocrats and corporations, that what they pretend to pass off as law is often just partisan and ideological nonsense, and that our system of checks and balances depends on other branches to rein them in."
Biden "has the power to clip MAGA justices' wings now" in order to "protect democracy and the rule of law."
"President Biden must prevent them from exercising exclusive authority over constitutional meaning. We urge the President to exercise leadership in this regard before it is too late," Tushnet and Belkin said.
The proposal drew criticism from Charles Cooke at National Review who wrote that the essay did not lay out any specific guidelines for what constitutes a bad ruling.
"There is no principle on display here, and there is no use pretending otherwise. By 'mistaken interpretations,'Tushnet means decisions that he personally dislikes," Cooke wrote. "By 'fundamental commitment,' he means political outcomes that he personally desires."
By 'MAGA justices,' he means members of the Supreme Court whom he personally wishes had not been nominated and confirmed," Cooke wrote. "He provides no rubrics, frameworks, standards, canons, doctrines, or objective arguments of any sort in the course of his proposition. Why not? Because he doesn't have any."
MORE: Professor says democracy on life support due to white supremacy
IMAGE: Public domain
Like The College Fix on Facebook / Follow us on Twitter