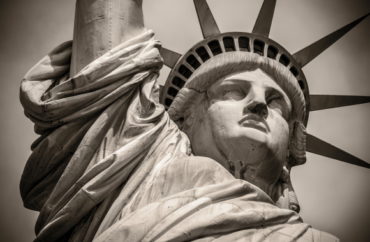 'The American Birthright standards provide a positive and constructive alternative for families to request and champion'
Three different groups of conservative, libertarian and classically liberal scholars have created a new set of curriculum standards to combat critical race theory and instill liberty-minded lessons in classrooms.
The American Birthright standards, released in June, aim to help teachers and parents hold public education accountable and ensure American civics is taught properly to students.
It gives parents a clear metric into what their kids should be learning and a guide to ask their school districts about what they are teaching, according to its creators.
The standards were developed by the Civics Alliance, American Birthright project and the National Association of Scholars, which argue current social studies curriculum standards are outdated and ineffective.
"There's been several generations of leftward drift in social studies instruction and social studies standards such that there's already social studies standards that are not rigorous, have empty skills rather than content, and often have a mild or substantially skewed content," said David Randall in a telephone interview with The College Fix.
Randall, director of research for the National Association of Scholars, helped co-lead the effort to develop the American Birthright standards.
He said the three organizations that developed the framework are connecting with grassroots parents groups and others working to challenge and change biased curricula in public schools, encouraging them to advance the new birthright standards metric.
He said the new standards are particularly needed now "because after the post-2020 radical shift in American politics, the new generation of social studies standards that are coming out in draft form are far more radical."
He described the emerging progressive standards as "action civics," which advance ideas like relaxing immigration laws, reducing prison enforcement, and sustainability activism.
He said the goal of the American Birthright Standards is not just to advance a so-called right wing agenda in response, but to give people and policymakers an accurate and less biased way of teaching social studies.
American Birthright does not contain a specific curriculum, but rather serves as a guiding metric with which educators can best explain all that's embodied in the creation and preservation of the American republic, Randall said in the project's launch video.
The goal of the American Birthright standards is to shift the focus of curricula from skills to content knowledge so students can recognize themes like liberty, faith in nations, science, technology, economics, state, society, and culture working together across a broad array of historical and contemporary contexts, Randall said in the video.
The standards include a basic sequence of courses for grades K-7 and an advanced sequence for grades 8-12. The advanced courses include ancient and classical Mediterranean civilizations, world history encompassing many civilizations like Africa, Latin America, Japan, China, India, the Muslim world, in addition to a comprehensive 2-year sequence of Western Civilization that includes U.S. history, civics and American government.
Through this framework, students will be able to use the background knowledge they gain from learning to synthesize a variety of facts, as well as sympathetically listen to others' points of view in order to engage in free style debates, Randall said in the video.
Many parents support the launch of the standards.
Nicole Neily, president of Parents Defending Education, said in an email interview with The College Fix that the American Birthright project "is a much-needed addition to K-12 education. States have a tremendous amount of power to determine what is – or is not – taught in their schools."
She said that "rather than playing defense and screaming about things that parents do NOT want taught, the American Birthright standards provide a positive and constructive alternative for families to request and champion."
MORE: How and why a proper education in American history would inspire patriotism
IMAGE: Marcio Jose Bastos Silva / Shutterstock
Like The College Fix on Facebook / Follow us on Twitter