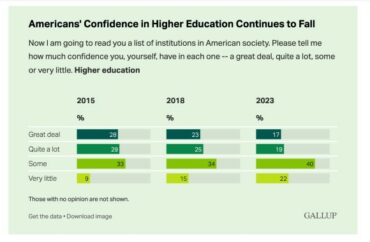 Useful research might help fix the confidence crisis in higher education
Professors could boost higher education's credibility with students, employers and conservatives by conducting more research with concrete value to the people around them.
"Engaged, and results-oriented, scholarship may offer colleges a concrete way to build deeper connections with their communities, to demonstrate the value of their knowledge, and to counter declining trust," according to a long Aug. 23 article in The Chronicle of Higher Education.
Such projects have included reuniting families divided by opioid addiction, reusing public hydroelectric dams and developing a system alerting schools of students at risk of dropping out.
However, the drive for tenure and other incentives of academia discourage public-facing work.
"At research universities especially, the paramount factor in tenure considerations became the quality of research," according to The Chronicle. "Work with the public, if it was factored in at all, was counted as service, which carries far less weight."
Tenure considerations have incentivized scholars to "[raise] up certain forms of knowledge and not others," Michael Rios, vice provost for public scholarship at the University of California at Davis, told the outlet.
For example, scholars must publish in highly cited journals to gain tenure, but these journals often rejects submissions of "community-engaged scholarship," according the the article. The journal editors want research that can be reproduced or wouldn't be ethical to conduct in the real world.
Academic departments can also discourage publicly useful research by holding faculty to their own super-specialized standards. Many department chairs resist trends towards such work.
Adjunct or part-time faculty, who make up at least 40 percent of professors, often don't have time or security for such research because they need to teach most of the time to make a living.
Even more, "research that's funded by big grants and weighted heavily in reviews for promotion and tenure is typically not community-based," according to the article.
However, scholars engaging in publicly useful scholarship could help fix the trust crisis in higher education.
Rising college costs, conservatives' criticism and employers' doubt whether degrees translate into career success have driven down the public's faith in colleges and universities.
Gallup poll results in July demonstrated that Americans' trust in colleges and universities has declined precipitously for years, The College Fix reported at the time.
"Americans' confidence in higher education has fallen to 36%, sharply lower than in two prior readings in 2015 (57%) and 2018 (48%)," according to a July 11 news release from the polling company.
Public trust has declined to "a new low point," according to Gallup.
It drew its conclusions from random-sampling telephone interviews conducted in June of approximately 1,000 American adults.
Republicans, Democrats and Independents all expressed less confidence in higher ed this year, but Republicans' faith dropped the most.
MORE: 'Decentering whiteness as knowledge' paper wins award
IMAGE: Gallup
Like The College Fix on Facebook / Follow us on Twitter