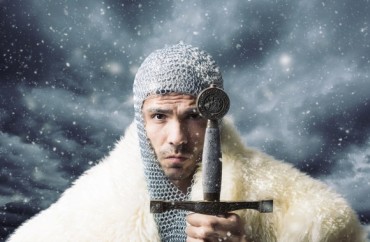 Growing concern among medieval studies scholars that field too dominated by white, male scholars 
Professor Nahir Otaño Gracia was recently bestowed the Mellon Emerging Faculty Leaders Award from the Institute for Citizens and Scholars.
Otaño Gracia was awarded for her work "The Other Faces of Arthur: Whiteness and the Global North Atlantic." It analyzes whiteness in medieval texts and is supporting her upcoming work on "decentering whiteness as knowledge," according to a news release from the University of New Mexico, where she works as an assistant professor of English and medieval studies.
The award is given to junior faculty who demonstrate through their research that they are "committed to the creation of an inclusive campus community for underrepresented students and scholars," the institute's website states.
Otaño Gracia did not respond to a request for comment, including a question on what she specifically means by decentering whiteness.
She said in an interview with UNM that she concentrates on "Arthurian literature written in English, Welsh, Old Norse Icelandic, Castilian, Catalan, Latin, and Old French among other languages to demonstrate that Arthuriana's obsession with chivalry is about whiteness—a racial category that privileges dominance—by normalizing violence and marginalizing non-whiteness."
Arthuriana is a quarterly multi-disciplinary journal for the International Arthurian Society's North American branch. "It is dedicated to all aspects of the Arthurian story from its inception in the Middle Ages to its enactments in the present moment," its website states.
The Institute for Citizens and Scholars established the award program in 2015 and has supported more than 70 junior faculty who represent new leaders and scholars in the humanities and social sciences, according to its website.
To be eligible for the award, faculty must be "building support systems, networks, and affinity groups for their students and peers," it states.
As The College Fix reported in 2017, there is a growing concern among medieval studies scholars that the field is too dominated by white, male scholars who appreciate its link to Christian values.
Reached for comment on the notion that whiteness must be decentered, University of Chicago history Professor Rachel Fulton Brown said it's a stand against the Anglo-American Empire's cultures, values, traditions and history.
"I think for the most part 'whiteness' is an equivocation for 'Anglo,' especially in literature departments," she said in an email.
Fulton Brown took heavy criticisms for her 2017 piece "Three Cheers for White Men." She writes in her faculty bio "I am the professor your other professors warned you about. I love Christianity, America, and the Western tradition of theology, art, philosophy, music, letters, and education. I believe in the reality of truth, beauty, goodness, and love."
She told The Fix via email last week regarding the decentering whiteness trend in medieval studies that "what we are witnessing globally right now is the collapse of the Anglo-American Empire, and this decentering of 'whiteness' is a reaction against the dominance of English for the past 150-200 years."
She said she relates the idea of decentering whiteness to "the break-up of the British and now American Empire."
MORE: Medieval Studies scholars deem field too white
IMAGE: Shutterstock
Like The College Fix on Facebook / Follow us on Twitter