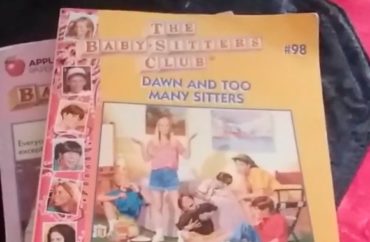 It was a popular children's book series from the 1980 and 1990s
A group of scholars are embarking on a significant analytical project of The Baby-Sitter's Club, a series of children's novels published from the late 1980s through the 1990s.
The project, which calls itself "the Data-Sitters Club," will effect a "computational text analysis" of the book series, according to Inside Higher Ed. The initiative will feature scholars from Bard College, the University of Edinburgh and Stanford University, among other institutions.
The Baby-Sitter's Club series focuses on a group of pre-teen girls in fictional Stoneybrook, Connecticut who deal with the trials and tribulations of average middle-class life while also maintaining a thriving babysitting business. The books were originally authored by Ann Martin, though ghostwriters later took over writing the short novels, which were published from 1986 to 2000.
One of the project's participants, Quinn Dombrowski of Stanford, said the group hopes to be able to explore the ways in which language varied across the series depending on who was writing a particular book:
Dombrowski noted that most of the books were written by ghostwriters. "If you look at Ann M. Martin's [main character] Kristy, is [she] the same Kristy as one of the other authors' Kristy, or are there quirks in her use of language that are distinctive to one particular ghostwriter or another?" Dombrowski asked.
The scholars also hope to explore how the books' presentations of social mores may differ from social standards commonly championed in academia today:
"We're thinking about what sorts of questions we could ask of all these books and analyze them in a way that would have been over our heads when we were reading them but can get to interesting questions about the cultural context in which the books were written, about the way gender roles were portrayed, the way race was portrayed," Dombrowski said. Computational text analysis techniques make it possible, for example, to easily count the number of times "black" and "white" are mentioned in the same sentence, as in "Jessi is black and Mal is white," a formulaic version of a sentence that frequently appeared in the books to describe the BSC's two youngest members and best friends.

"We've got a whole list of questions," Dombrowski said. "For instance, what kind of terminology around race is used? Is there a change over time? Do they use 'African American' versus 'black' for Jessi? How is religion treated in the book? To what extent is [the character] Abby treated as an other because of her Jewishness? Looking at Emily Michelle, Kristy's adopted sister from Vietnam, how her race is portrayed, how adoption is portrayed."
Dombrowski referred to the project as an "act of feminist pedagogy," while University of British Colombia scholar Katherine Bowers expressed approval at "the way this is centered on the female experience and the way that it's a feminist collective doing the analysis."
MORE: There are too many white characters in children's books, professor argues
IMAGE: TheReal Birdie / YouTube.com
Like The College Fix on Facebook / Follow us on Twitter