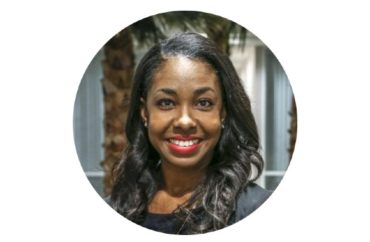 May not even be eligible to serve on the school board
A political advocacy group has begun the paperwork to try to recall a school board member after she said that proponents of school reopening are advocates for "white supremacist ideology."
"So how are we forcing people, that seems like a very white supremacist ideology," Chardá Bell-Fontenot (right) said during the February 23 meeting of the La Mesa-Spring Valley school board in California. She said it is an example of privilege "to force people to comply" and told her colleagues "just letting you know, privilege, check it you guys."
Those comments and her opposition to reopening schools has now led to a recall attempt against her.
"Chardá Bell-Fontenot has created a toxic and hostile environment on the La Mesa-Spring Valley School Board and has hurt our children," a petition for Reform California, a political action committee founded in 2003, said.
"She has been served with the recall paperwork," Reform California's chairman Carl DeMaio told The College Fix via a phone interview on Monday. Bell-Fontenot has 7 days to respond to the petition's accusations, delivered to her on Friday, March 19.
"Her response [will be] basically 'don't sign the petitions,'" DeMaio said. Proponents and opponents of recall measures each get 200 words to explain their position, DeMaio, a former San Diego councilman and GOP Congressional candidate, told The Fix.
Bell-Fontenot is the first person the group has targeted for recall under its School Board Recall Initiative, which aims "to give parents and concerned citizens a tool to hold school board members accountable," according to its website.
Opposed reopening schools
The comments came during a discussion on reopening schools. The district said it had surveyed parents and found 70 to 80 percent of them wanted to return to schools.
One board member, Sarah Rhiley, had said the district has to "give parents a date" for reopening.
"We don't have to give anybody any date," Bell-Fontenot said, "we do not have to make a decision today."
"I would like to know geographically from which school sites" the parents who supported reopening were from, Bell-Fontenot asked Rhiley.
"Forcing" people to return to schools is an example of "slavery," Bell-Fontenot said.
"I do not have a comment at this time," Rhiley said via email to The Fix on Wednesday. The College Fix asked her for a copy of the survey referenced and for comment on the situation.
The Fix emailed Bell-Fontenot at her school board address but received an undeliverable error message.
Residency challenged by Reform California
DeMaio said his group is investigating the possibility that Bell-Fontenot is not even eligible to serve on the school board.
"Under California law it is illegal for an elected official to serve in a position if they are no longer eligible as a registered voter and actual resident in the district they are supposed to represent," an update on the Reform website said.
"According to San Diego County voter records, Bell Fontenot has been registered at multiple properties across San Diego County since she first ran for the La Mesa-Spring Valley School Board," the website said.
If she is found to have lived in a different district she could face "criminal sanction" and "would have to be removed from the La Mesa-Valley School Board."
Superintendent David Feliciano addressed Bell-Fontenot's behavior saying she "behaved in a manner the Board does not condone."
"Nor did her behavior represent our values and our commitments to our students, community, and to each other,"Feliciano said. "We have received many emails and calls of great concern from our families and community members."
MORE: Acronyms are a form of 'white supremacy,' San Fran schools art department says
IMAGE: La Mesa Spring Valley Schools
Like The College Fix on Facebook / Follow us on Twitter