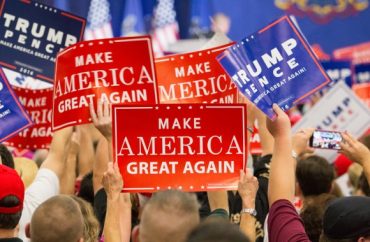 A school board member in a western Pennsylvania school district has caused quite a furor with his social media rants about the new president, not the least of which were various remarks about making America great again … "with a clean head shot."
Included in Crawford Central School Board member Glenn Tuttle's posts were phrases such as "Hopefully they find that special one who can do it right and #MAGA with a clean shot," and "I can't wait to see the stats as his welfare leeches finally die. Best thing ever. #notmypresident #MAGA with a clean head shot."
A member of the public, Bonnie Van Nort, brought Tuttle's comments before the board at Monday's meeting.
The Meadville Tribune reports Tuttle hasn't backed down on his comments. Indeed, he stated that "I do stand behind the comments," and when asked about students possibly reading his words said it's "the job of parents to actually monitor what their kids are reading."
He even suggested his posts might make a good classroom lesson, asking "Should we teach our students honesty or should we teach them mendacity?"
The postings include a number of people trading insults and criticisms of political beliefs back and forth, including several comments from Tuttle that are critical of then President-elect Trump. Tuttle was elected to the board as a Republican in 2013 to fill out an open seat on the board and re-elected to a four-year term in 2015. More recently, he has identified himself as a Libertarian.

In the course of those comments, he was asked the question, "Are you a racist?"

"Only towards the trailer trash KKK supporters that make up Chump's support base," Tuttle wrote in reply, using one of several disparaging nicknames he employed for officials from both sides of the political spectrum, this one for Trump. "I can't wait to see the stats as his welfare leeches finally die. Best thing ever. #notmypresident #MAGA with a clean head shot."

This comment was one of three in a five-minute span using variations on the phrase "clean head shot" in connection with the abbreviated hashtag for Trump's "Make America Great Again" campaign slogan.
Crawford Central Board President Jan Feleppa said Tuttle's comments "were made as a private citizen," "were not authorized by this board," and "do not express the opinions of the other board members."
Steve Robinson, senior director of communications at the Pennsylvania School Board Association, noted that Tuttle could only be removed from the board via the voting public: "It is outside the authority of school board members to remove one of their own," he said.
Ms. Van Nort acknowledged Tuttle's right to free speech, but asked him to "consider the example he was setting."
"You are a representative to our students," she told him. "If it's OK for you to talk that way, what would a teacher do if a student spoke this way in class? They wouldn't tolerate it."
Earlier this morning on his Facebook page, Tuttle doubled down even further:
Read the full Meadville Tribune story.
MORE: Demands grow for Trump 'political ally' to resign from school board after racist comments
MORE: Virginia school board member resigns after profane anti-Trump social media rant
Like The College Fix on Facebook / Follow us on Twitter
IMAGE: Shutterstock