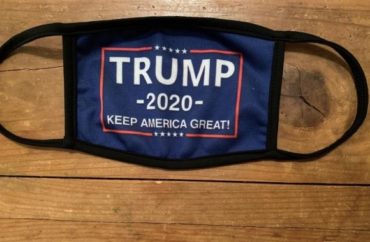 UPDATED
'We absolutely have not discriminated against any one party or viewpoint in favor of another'
Just a day after a Mississippi school district received a legal warning for allegedly forcing a student to remove his pro-Donald Trump face mask, the school district says it's modifying the dress code at issue.
A spokesperson for the Rankin County School District responded to a College Fix query from Tuesday, saying it's making a "temporary adjustment" to its "Smart Restart Plan" that requires masks in schools.
Students will be allowed to wear masks and clothing with "writing" unless that message becomes "disruptive to or detracts from the educational process" in reality, the emailed statement reads. The school board plans to review the full dress code policy in the meantime.
The Alliance Defending Freedom said that Northwest Rankin High School Assistant Principal Lewis Bradford falsely characterized the dress code as banning "political" speech when he ordered student David Ferguson to remove his "Trump 2020 Make America Great!" mask in late September.
The public interest law firm said the high school has "[a]pparently" allowed students and teachers, "without reprimand," to wear apparel with messages popular with progressives, such as pro-Joe Biden, gay rights and Black Lives Matter.
Either way, the dress code gives "too much discretion to administrators to censor viewpoints such as Mr. Ferguson's while permitting other opposing viewpoints," it warned. The code, prior to the temporary revision, prohibited clothing and masks with "disruptive" slogans and statements "that cause a disruption to or detract from the educational process."
District administrators including Bradford "have taken steps to follow" the Smart Restart Plan and dress code, which are "designed to prevent distractions to the educational process and to maintain a non disruptive [sic] learning environment," the district statement reads:
The Rankin County School District's intention was not to prevent freedom of speech. We believe free speech is paramount and should be equal and on par with a student's quality education. Administrators in the Rankin County School District have applied the policy equally and fairly and always do this in favor of free speech. We absolutely have not discriminated against any one party or viewpoint in favor of another.
The Fix has asked the district to clarify that it disagrees with the factual claims and legal analysis in the alliance letter and that it's not in talks with the firm to resolve the dispute short of litigation, given the "temporary adjustment."
Alliance Defending Freedom told The Fix in an email Wednesday that as of "this afternoon" the district has agreed that students including Ferguson "may wear masks with political messages including the Trump mask at issue":
In addition, they have offered to work with us to revise their policy to comply with the First Amendment going forward. We assume this offer is in good faith and look forward to working with the district to ensure the First Amendment rights of all students going forward.
UPDATE: Comment from the Alliance Defending Freedom has been added.
MORE: Letter accuses district of viewpoint discrimination in mask enforcement
IMAGE: Alliance Defending Freedom
Like The College Fix on Facebook / Follow us on Twitter