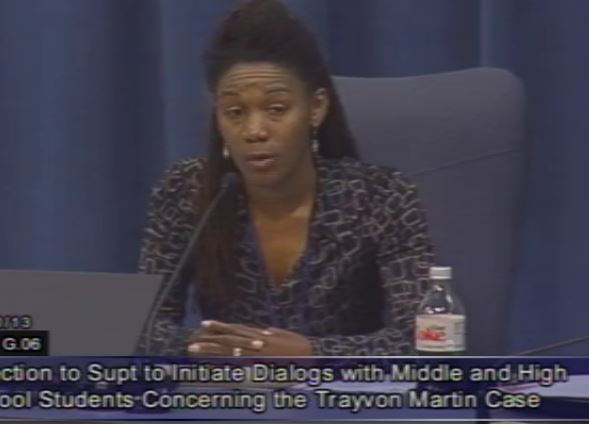 "Trayvon Martin dialogues" are slated to launch at middle and high schools across San Diego, with elected officials of the 132,000-student public school district saying they hope the talks give students a chance to vent their frustrations into something positive.
School board members of the second largest district in California made the decision at their recent meeting, directing the superintendent to develop how, when and where the discussions will take place.
The resolution approved by a 4-0 vote July 30 calls for the dialogues to "allow students to speak honestly about their identification with Trayvon Martin's story, including feelings of fear, anger and skepticism that they will live in a just society as they prepare for their future."
The resolution also states the talks will "allow students to speak honestly about the world view that prompted George Zimmerman to confront Trayvon Martin, and help students develop perspectives and strategies to channel their feelings about Trayvon Martin into positive work for themselves and the larger community."
San Diego Unified School District board member Marne Foster said before the vote that "Trayvon Martin could have been any one of my three sons as an unarmed, young African American male traveling home."
She said she hopes the dialogues offer venues for "candid, honest conversations about the state of America."
"This … gives them a voice and the tools to constructively and safely engage the world around them, and more importantly to become that change agent that we so desperately need them to be," Foster said, adding "especially given in 2013, they are still living in a time reminiscent of Emmitt Till."
Till was a young black teen who, in 1955, was beaten to death for flirting with a white girl. His murder was a tragedy that helped spawn the Civil Rights movement.
"The feelings of young people I have spoken to who have made their voice heard throughout our community are feelings of anger, frustration, a sense that, 'Is the society that young people grow up in and enter into –  is it going to be fair?' " said school board member Richard Barrera prior to the vote. "Those are legitimate feelings young people are having. We have a responsibility to allow young people to come together and have dialogue with each other and express these feelings openly and honestly with the support of professional educators."
The dialogues are also expected to delve into the "stand your ground laws (and) how to deal with being confronted by others in an authoritative manner," the resolution states.
"(We'll) carefully and methodically look at what happened and analyzed this," said school board member John Lee Evans. "This is an important teachable moment."
A video of the school board meeting at which this discussion and vote took place is available online: click here. The discussion starts at 2:11:30.
Click here to Like The College Fix on Facebook  /  Twitter: @CollegeFix