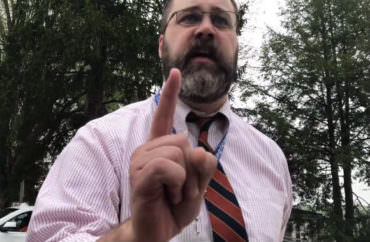 Will train employees on First Amendment rights on public property
The Downingtown Area School District in Pennsylvania is giving in to a threatened lawsuit by apologizing to two teenagers whose pro-life activism on the sidewalk earned a crude tirade by an assistant principal.
Zach Ruff of the Downingtown STEM Academy was captured on video this spring walking out of the school and accosting Lauren and Connor Haines, who are part of a "Christian activist network" that shows graphic abortion images.
He told them he's gay, said they and aborted children "can go to hell" and screamed that fetuses aren't human but rather "cells," as he blocked them from interacting with passers-by:
I don't give an (expletive) what Jesus tells me about what I should and should not be doing. You are harassing public school students and I will call the police if you don't shut up.
Ruff's behavior was illegal, Superintendent Emilie Lonardi said in a July 7 letter to the siblings and their parents that's included in the school district's 19-page settlement, made public Thursday:
You had every right under our constitution's First Amendment to speak and display signs like you did, and that right was violated by Dr. Ruff. Rest assured that Dr. Ruff's actions do not represent the policy of the School District. Instead, we will be providing information to our employees on the First Amendment rights of individuals. We are committed to preventing incidents like this from happening in the future and will instruct school employees not to violate anyone's Free Speech rights on public sidewalks outside our schools again.
MORE: Zach Ruff caught on video screaming at teen pro-life activists
The school district changed its policies to specifically reflect the Haines and Ruff dispute, which included the assistant principal "attempting to rip a sign out of their hands, which could constitute assault and battery in Pennsylvania," the siblings' lawyers at the Alliance Defending Freedom said Thursday.
Under a section titled "Examples of Protected Speech," the revised policy says students can refuse to salute the flag, wear armbands to protest war and "use certain offensive words and phrases to convey political messages":
Speaking for or against abortion is equally protected, even if some find words or images to be personally offensive, as long as there is no disruption [of classes or operations] … [students and others have the right] to engage in protected speech on the public sidewalks outside of school buildings.
MORE: Zach Ruff accused of assaulting pro-life teens under state law
The policy also explicitly tells students they have no right to publish what they want in a school newspaper, citing the Supreme Court's 1988 Hazelwood ruling, which limited the applicability of a previous ruling that guaranteed the right to wear antiwar armbands, 1969's Tinker.
Alliance lawyer Kevin Theriot said the policy change was "critically necessary" because of "the bullying and verbal abuse that Zach Ruff inflicted on Conner and Lauren," and to ensure the rest of the community can exercise First Amendment rights in the vicinity of the school.
The school district met both conditions demanded by the alliance, which said Ruff's behavior captured on video "constitutes assault and battery under Pennsylvania law."
The assistant principal was quickly put on leave and eventually resigned, but not before he was supported by two dozen backers at a school board meeting and a 50,000-signature petition.
His lawyer and supporters said it was Ruff's First Amendment rights that were violated.
Read the settlement and alliance statement.
MORE: Assistant principal who screamed at pro-life teens backed by 50,000 signatures
Like The College Fix on Facebook / Follow us on Twitter
IMAGE: Conner's Projects/YouTube