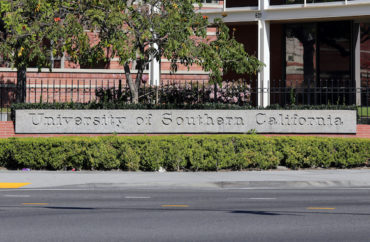 Student requests public apology, new mandatory 'critical race theory' course
The University of Southern California is promising an "inclusive resolution" for a student after she released a set of demands that included a mandatory "critical race theory" class and a public apology from her program. The demands stemmed from an alleged racist incident that occurred during a class project.
Graduate student Gina Loring has stated that a classmate in one of her classes typed racist messages into a shared class document during an in-class exercise. In response to the topic of "increasing the number of women of color who receive prenatal care," one student typed "sterilize them" and "take away their babies at birth." These comments were later deleted.
According to Loring, a white female student admitted to writing the comments later in that class period, stating that she did not agree with the comments but merely wrote them as part of the exercise. The course's instructor, Kimberly Hirabayashi, told Loring the issue would be "addressed;" Hirabayashi ultimately did so by giving a statement about the incident at the beginning of the next class before moving on.
Afterwards, Loring started a petition that listed a number of demands upon the school, including mandatory critical race theory training for Hirabayashi. The petition also called for related training to be implemented in other courses at the university's Rossier School of Education.
Rossier spokesman Ross Brenneman told The College Fix via email that the university is "aware of a petition from one of our students, which addresses an instructional situation that occurred during a classroom discussion in September."
"While we are continuing to review the matter, our goal is to find an inclusive resolution that reflects both our commitment to an open exchange of ideas and our mission to teach students to value and respect the cultural history and the identities of those around them."
The Fix sent multiple emails to Hirabayashi, as well as the Dean of the Rossier School, Karen Symms Gallagher. Both failed to respond. The Fix also reached out to Gina Loring for comment, and she failed to respond as well.
The Daily Trojan reported that Loring dropped the class after this incident and that Rossier has not communicated with her since then.
Among the demands on Loring's petition are "mandatory professional development training for Dr. Hirabayashi surrounding Critical Race Theory (CRT) and the facilitation of race-based conversations," "a mandatory CRT workshop for the group members who wrote the comments and the student who defended them," "a public apology from the school and the instructor to the many students who were deeply affected by the incident," and "a required course with a CRT centered curriculum during the first semester for all newly admitted students to the program."
At press time, around 850 people had signed the petition.
MORE: Students take over campus building, issue list of 23 demands
MORE: Illegal immigrants at Columbia demand counselors, sensitivity training
IMAGE: Katherine Welles / Shutterstock.com
Like The College Fix on Facebook / Follow us on Twitter