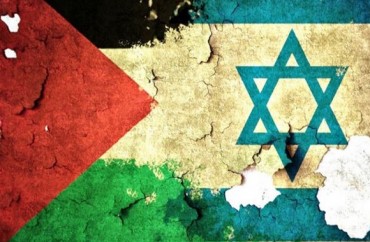 A New York State high school's "Culturally Responsive Committee" sent out an email earlier this month advising teachers to make use of anti-Israel terminology in their lessons.
The committee, which allegedly "works to advance […] anti-racism and equity goals" at Schenectady High School, offered pro-Palestinian resources to teachers which included a "words to use" list, The Daily Gazette reports.
The list included the terms "apartheid," "colonialism," "ethnic cleansing," "boycott Israel," and "anti-Zionism." It also advised against using "clash," "war," "both sides" and "conflict."
After the email resulted in an "almost immediate backlash" by teachers, Schenectady Principal Chris Chank messaged his staff to invite those concerned to speak with him directly. Chank also forwarded an email from the Culturally Responsive Committee which noted that part of its role is "to provide space to uplift oppressed voices."
A pair of social studies teachers ripped the CRC's advocacy.
"As educators, it's our job to help students learn how to think about this conflict. We cannot teach them what to think about it," Chris Ognibene said. "When the school takes a single side and offers it as the only point of view we do students a grave disservice."
MORE: Profs, students criticize 'state-sponsored apartheid' in Israel
Mike Silvestri criticized Schenectady administrators for not responding better — and more quickly — to the CRC's email: "I don't know why it was hard to do it right away. The email was a mistake but the lack of leadership was a problem."
Shaik Ubaid, an anti-war activist whose group the Muslim Peace Coalition organized a recent pro-Palestinian rally in Albany, said he thinks some of the phrases and words used in the chart are an accurate description of the way Arab minorities are treated in Israel and Palestine.

He highlighted how Palestinians were displaced from their homes by Jewish settlers at the creation of Israel as its own country – which flowed from the aftermath of WWII – and how that displacement continues today.

"Why is it anti-semitic to describe how European Jews came to Palestine? It is colonization," he said. "When you look at it objectively, the Palestinians and the world see it as white people from Europe coming and taking it over."
District Director for Equity, Diversity and Inclusion Patrick Jean-Pierre said in a statement that the Schenectady City School District "stands with our Jewish brothers and sisters everywhere and against all injustice anywhere.
"Our goal is to continue to use this recent experience in the same way we have used all experiences, as an opportunity for learning and growth for all."
MORE: NYC principal pushes teachers to 'take action' in support of Palestinians
IMAGE: YouTube screencap
Like The College Fix on Facebook / Follow us on Twitter