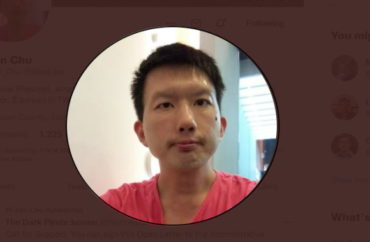 'Why does it take a Singaporean to remind a bunch of Americans what your foundational values ought to be?'
When not spending his time studying gravitational field theory and particle cosmology, Yi-Zen Chu may be found discussing diversity, inclusion and equity in the sciences — and why such topics should have no place in STEM.
Chu, an associate professor at National Central University in Taiwan, attended college in the United States, earning his PhD at Case Western Reserve University in 2010.
He told The College Fix in a recent interview that what he sees going on in American sciences today with what he calls the "DIE" ideology is destroying scientific and academic standards — and he is not willing to let it happen without a fight.
Chu maintains a blog that not only delves into "gravitational radiation" and "odd dimensional flat spacetimes" but also topics such as "are some physicists more equal than others" and "ideological corruption."
While his target is largely equity activities unfolding at his alma mater, Case Western, his critiques also target the overall field, including taking on the "Particles for Justice" and "#ShutDownSTEM" movements.
Chu is an outspoken critic of the embedding of social justice into the sciences, to the extent that some of his peers at Case Western have denounced him. He said his critiques of "DIE" have not made as much of a dent as he'd like, but he is glad he took a stand publicly.
"At least I achieved one goal — speaking up publicly — with the hope that others in STEM would, at some point, follow suit," he told The College Fix.
'Struggles in Physics'
Originally from Singapore, Chu lived, studied, and conducted research in physics in the United States from the fall 1999 through the summer 2017.
On his personal "Struggles in Physics" blog, Chu argues that "when acting on behalf of Science, we scientists have a responsibility to stick as much as possible to reality, evidence, reason, logic, etc.; however strongly we personally feel about political or moral issues."
"I am growing extremely concerned that academia is discarding values that are most conducive to the flourishing of science — meritocracy; intellectual, academic, and scientific integrity; freedom of inquiry; freedom of expression; and freedom of conscience — in favor of Social Justice with Capital Letters."
He wrote that he vehemently opposes diversity, inclusion and equity in the sciences "because it is based neither on scientific evidence nor reason, but on the far Left ideology of equal representation (or, equal outcomes) — as opposed to equal opportunities."
He argues that recruiting based on gender and skin color for the sake of equal representation "will ultimately eat away our scientific, academic, and professional standards."
'Your mentors and advisors are horrified, troubled, and concerned by your posts'
Within the past 10 years, Chu said, things have changed drastically at his alma mater and more broadly within his field.
"When I was a grad student … I heard one colloquium given on the under-representation of women; but there was no official endorsement or implementation of DIE policies," Chu recalled.
During recent years though, Chu said, he's increasingly lectured by peers about feminist causes and the need to decolonize science.
In the fall of 2020, when he visited Case Western's website, it hit home harder for him, as the homepage for the physics department was splashed with diversity mantras.
"I was concerned about the erosion of meritocracy and scientific standards," he said, adding that in December 2020 and April 2021 he wrote about the matter on his personal blog.
However, Chu's public statements got him publicly condemned by the faculty leaders of Case Western's Department of Physics in April 2021.
"Your mentors and advisors are horrified, troubled, and concerned by your posts, many of which have only recently come to our attention," tweeted Glenn Starkman, director of the Center for Education and Research in Cosmology and Astrophysics at Case Western.
@Yi_Zen_Chu Your mentors and advisors are horrified, troubled, and concerned by your posts, many of which have only recently come to our attention. Supporting and increasing diversity in physics and the academy is something I value.

— Glenn Starkman (@gstarkman) April 4, 2021
Chu was also blocked by several Case Western Twitter pages.
Afterwards, Chu said he reached out via email to three faculty members with whom he had co-authored journal articles. "The conversations did not go well at all," Chu told The College Fix, adding: "To be fair, I was rather direct from the outset."
One faculty member told him his Twitter comments and questions constituted a personal attack on students, regardless of his intentions. Another, according to Chu, said Chu's criticisms were offensive and delegitimized students.
Since then, Chu said, he had tried to reach out to other CWRU physics faculty members and its provost. The provost never got back to him. Two additional faculty members did, but with no meaningful discussions or changes. One told him to "fuck off," and the other said his emails were a poor tactic that made the problem worse and have caused "mass anger."
'Why does it take a Singaporean (me) to remind a bunch of Americans what your foundational values ought to be?'
Chu acknowledged this faculty member's "points might well be factually correct — faculty could well be mad at me," but he said he wonders if "mass anger" is how professors at an American university should react.
"What does it say about the current socio-political climate of U.S. academia," he said. "Have [American academics] taken the spirit of the First Amendment for granted, and replaced it with self-righteous social justice far-left illiberalism?"
"It is ironic indeed, to be explaining American values back to Americans," he added. "In fact, in the email I wrote to CWRU Physics faculty, I asked rather bluntly, 'Why does it take a Singaporean (me) to remind a bunch of Americans what your foundational values ought to be?'"
Perhaps as a native Singaporean originally, from a society without such foundational First Amendment values, Chu is in a better position to not take them for granted.
"While Singapore has opened up a tad more over the past decade, it still does not enjoy the same sort of freedoms that Americans enjoy, as enshrined in the U.S. Constitution," he said.
Reflecting upon his exchanges with members of his alma mater over the past year or so, Chu noted, "I'm not sure how to classify the fallout from my interactions with my supposed 'mentors and advisors.' … I've always believed professional honesty, scientific integrity, and academic honor are all fundamental values to a practicing scientist.
"Unfortunately, at least in my view, my supposed 'mentors and advisors' have broken them rather badly by blatantly misrepresenting both my intent and actual public statements."
The College Fix reached out to the co-chairs of the CWRU Department of Physics, Corbin Covault and Glenn Starkman. Covault did not respond. Starkman declined to comment.
MORE: DEI takeover of STEM hinders ability 'to produce the best science,' say scientists
IMAGE: Twitter
Like The College Fix on Facebook / Follow us on Twitter