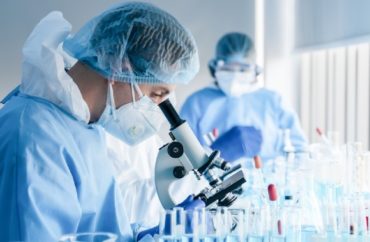 ANALYSIS: 'Promoting a climate of fear and repression … damages creativity and drives excellent young scientists out of the field'
In December, Stanford University's Department of Computer Science released a statement on the Kyle Rittenhouse verdict accompanied by an anti-racism toolkit comprised of images of what looks like the reading list for a racial studies course.
"We condemn the violence, trauma, and suffering that the Black community has both historically and contemporarily endured," the computer science department stated.
"The pervasiveness of anti-Black racism reaffirms our department's mission to create an equitable, diverse, and inclusive community that centers, affirms, and uplifts everyone and prioritizes an enduring sense of belonging and community for all."
Although academic departments related to science, technology, engineering, and math, collectively known as STEM, once operated largely unadulterated by the social and political ideologies that plague much of academia, many professors and students in those departments now find that espousing the proper views on a plethora of topics related to race, sex, and the broader Diversity, Equity and Inclusion philosophy has become prerequisite for a meaningful career.
Patanjali Kambhampati, a chemistry professor at McGill University, recalled when he was a student in the late 1980s and 1990s.
"Some of my friends and professors in science were saying, 'Oh the people in sociology are trying to study us and judge us and tell us how to do better and be better people,' and we were laughing at that seeing how silly that was because we're the rational ones," he said in a phone interview with The College Fix.
Now, Kambhampati said, it's no longer a laughing matter.
Kambhampati, whose research pertains to ultrafast lasers with the potential to play a role in numerous technological advancements, was recently denied a grant by the Natural Sciences and Engineering Research Council of Canada for failing to "adequately describe specific, concrete practices that will be put in place to ensure that EDI is intentionally and proactively supported" in his lab.
Responding via email to a series of questions sent by The College Fix, Dorian Abbot, a professor in the Department of the Geophysical Sciences at the University of Chicago, wrote that "20 years ago the emphasis was on reducing biases and identifying the most promising candidates from a scientific perspective regardless of their background, which I strongly support."
But today, as a prominent critic of DEI's tendency to prioritize skin color above skills, Abbot was disinvited from giving a lecture at MIT about his geological studies.
DEI has become "focused on trying to hit quotas for group membership, discriminating against members of undesirable groups, and suppressing the speech of those who disagree with any aspect of it," Abbot told The Fix.
"The effect," he added, "has been that we are hindering our ability to produce the best science by (1) selecting young scientists partially using criteria other than scientific merit and potential and (2) promoting a climate of fear and repression, which damages creativity and drives excellent young scientists out of the field."
Illustrating Abbot's point is a growing list of prominent victims of this systemic infection of STEM by DEI who have lost funding and professional opportunities due to their failure to take what Abbot described as an "ideological loyalty oath."
Scientific journals self-flagellate over their boards being too white and too male.
Academic departments in STEM routinely post DEI statements to their websites, replete with all the proper slogans.
Science departments issue statements on news stories unrelated to science if the story has any perceived racial overtones, as Stanford did with the Rittenhouse verdict and as many other STEM departments did in the wake of George Floyd's death.
For example, in the summer of 2020, the chair of Northern Illinois University's Department of Biological Sciences at the time sent out an unnecessary but seemingly heartfelt email condemning Floyd's death.
Ironically, this also got him publicly scolded via mass email by a graduate student because he failed to use this opportunity to call for more race-based hiring and mandatory in-person anti-racism training within NIU's biology department.
Further exemplars of Abbot's concerns include recent postings for faculty positions at both Illinois State University and the University of Hartford, with ISU requiring aspiring neuroethologists to submit a "one-page statement describing [their] interest in or effort toward furthering diversity, equity, and inclusion" and Hartford informing would-be anatomy and physiology instructors, "A review of applicant diversity statements will precede that of any other application materials."
None of this however has any apparent benefit to science or scientists. None of it furthers understanding of human disease, life on Earth, or the universe beyond.
The net result, according to Abbot, is academic institutions are "screening out scientists with alternative political and moral viewpoints," which led him to ask: "Do you care if the person who will come up with the cure for cancer agrees with you politically?"
For most people the answer is no. However, given today's academic climate, perhaps the better answer is that we should hope that the person who can come up with the cure for cancer agrees with the right people politically.
"Some topics which were topics taught in biology have become controversial over time. … A good example would be that sexes are binary," Luana Maroja, a professor of biology at Williams College and author of a 2019 Atlantic piece on self-censorship by scientists, told The College Fix.
Debra Soh, who formerly did neurocognitive research on human sexuality as a graduate student, felt she needed to self-exile from academia if she wished to comment on politicized scientific issues related to her area of expertise like gender dysphoria in children.
Former friendly neighborhood spider researcher Colin Wright gave up on an academic career after, according to his account, he was blacklisted from long-term employment in academia upon penning several popular articles containing heretical truths pertaining to biological sex in humans.
Commenting on the examples of Soh and Wright, Maroja stated, "I don't think that just holding [these] views would have been detrimental…I don't think their view is a niche view…I think most people agree with them – especially biologists."
However, Maroja said, "They were very open about it." In today's academic climate, "a person having those views is fine. If they publish it and it becomes widely known, it's another story," she said.
One of the greatest ironies of these types of requirements, according to Maroja, who is originally from Brazil, is that immigrants are sometimes among the most negatively impacted by them.
"People who are not Americans…", she said, "don't understand what it is that they are expected to say."
Many Americans working in academic STEM, however, have come to understand what they are expected to say, and, whether sincere or not, make a grand display of saying it as loudly as they can.
MORE: This scientist took on student activists who cheered for censorship. Now she's refuting their 'violence' claims.
IMAGE: Mongkolchon Akesin / Shutterstock.com
Like The College Fix on Facebook / Follow us on Twitter