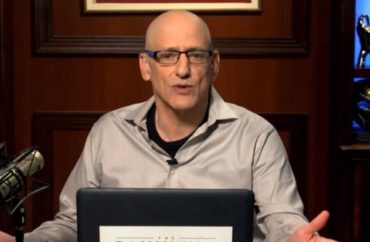 Conservative author and pundit Andrew Klavan, who hosts a popular YouTube show for The Daily Wire and is known for his biting wit and no-holds-barred commentary against liberalism, has been denied an appearance at Scripps College by its officials who claim they have no venue available to host him.
Right-of-center student journalists at the Claremont Independent had sought to bring the commentator to Scripps, one of five schools that make up the Claremont Colleges consortium in Southern California.
In early February, the students officially requested permission to bring Klavan to campus, but in mid-February that request was denied, with officials saying there was no available venue, according to an email between the students and Scripps officials obtained by The College Fix.
"Is there open availability at any venue for a date at any point this semester? We can really work with almost anything and we'd like to know," Scripps College senior Sophie Mann responded.
The answer was still no.
"In this case, we have concluded that we aren't able to accommodate this event," Toby Bushee, executive director of conference and event administration at Scripps College, told Mann via email.
Subsequent face-to-face meetings also did not prompt officials to work with the students.
Campus officials did not respond to requests Monday from The College Fix seeking comment.
Matthew Reade, co-editor-in-chief of the Independent, said he and his peers are very frustrated.
"They told us in February they had nothing through May, that's just absurd," he said. "Andrew Klavan is apparently outside the boundaries of acceptable debate, but we can bring a murderous regime to campus?"
Reade is referring to Scripps College playing host to two Venezuelan diplomats this month. The Independent took campus officials to task over this apparent bias in a recent editorial.
"Though we sought no funding from the college and planned to use our publication's own resources to pay for the speaker and any additional costs incurred, Scripps refused to budge. Meanwhile, the college entreated representatives of the Venezuelan government to propagandize on our campus, offering to fund their appearance with college resources. In an unsettling imitation of Maduro's dictatorship, Scripps chose to censor us and Klavan, opponents of the Venezuelan regime, while inviting the representatives of that murderous government to speak unchallenged," the editorial states.
Making matters worse, the editorial continues, Scripps is "embarrassingly devoid of all diversity of thought."
"The Malott Public Affairs Program, a speaker series designed to introduce students to 'a range of opinions about the world—especially opinions with which they may not agree,' has not hosted a speaker since 2015. This series once introduced students to Newt Gingrich, David Brooks, Ben Stein, Peggy Noonan, and other great conservative and libertarian thinkers—but no longer," the editorial stated. "Today, Scripps students have little if any exposure to conservative opinions, and instead are scheduled regularly to listen to the minions of despicable dictators, human rights violators, and representatives of organizations connected to Islamist terrorism."
Mann, co-editor-in-chief of the Independent, told The College Fix she is disappointed by her school, in particular since she and her peers were only requesting a space to host the event, not a monetary commitment.
"It was also disheartening that on two separate occasions, the events staff felt the need to issue opaque, if not whole untrue, statements about the reason they were unable to accommodate our request," Mann stated. "As we wrote in our editorial on the matter, Scripps is a private institution and may allocate its resources and spaces in the ways they see fit. But, we would appreciate, at very least, a sense of honesty about how they decide which events and student groups they choose to support and transparency about the politically charged reasoning behind repeatedly denying conservative students the opportunity to host educational events."
MORE: Scripps College panels on Venezuela to celebrate country's socialist regime
Like The College Fix on Facebook / Follow us on Twitter