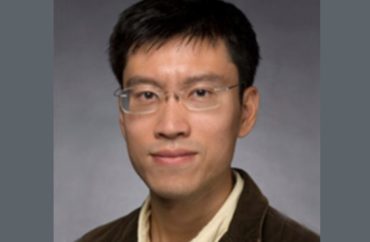 A second University of Wisconsin-Milwaukee professor has been linked to an elaborate scam in which Chinese students were bilked for over $1 million, according to new documents made available by the school.
Jie Yu is now accused of being complicit in a scheme with her husband, Yue Liu, in which international graduate students were charged $31,000 to cover tuition and to receive a guarantee to work with the engineering professors.
Yue Liu (pictured) also goes by the name "Troy." Both he and his wife were fired by the UW Board of Regents in December.
Lawmakers allege the married couple pocketed the money given to them by the students and distributed a portion of it to the school under the guise of several imaginary businesses.
According to Liu's plea agreement, Liu and Yu collected $1.1 million from the scheme between 2016 and 2020. They then paid out $500,000 to the school, using fake grants and gifts to cover research expenses.
Liu began working at UWM in 2009 and Yu joined her husband at the school in 2015. Liu pleaded guilty to charges of fraud in February of this year, but the extent of his wife's involvement was not known until this week.
UWM spokeswoman Michelle Johnson said the school could not comment on pending legal cases.
"We want to express our gratitude to the U.S. Attorney's Office, which is working to obtain restitution for our students," she told The College Fix in an email.
According to new documents released to the Milwaukee Journal Sentinel, Liu would send letters to students looking to gain admission to the university's civil and environmental engineering program.
In the letters, which were printed on University of Wisconsin letterhead, Liu would use the fake name "Ian Wyatt" while trying to entice students into giving him money.
That money would then be sent to the "Wisconsin International Education Foundation," a fake charity set up by Liu and Yu. The foundation's mailing address matched their home address.
Liu told prospective students they would be part of a program "run by an entity he controlled, which would pay expenses associated with their studies at UWM, including tuition and other costs," the Department of Justice said in a statement charging him back in February.
But there was no such program affiliated with the state's flagship university, and tuition for the students was automatically waived because they were research assistants.
In order to pay money to the school, the couple created a number of fictitious grants programs. Investigators later noticed that Liu's work email was listed as a recovery address for one of the limited liability companies hosting one of the grants.
"As further part of the scheme, Liu attempted to conceal his fraudulent activity by creating a fraudulent Sponsored Research Agreement with UWM using a fictitious entity purportedly based in China," according to court records.
The Justice Department accused Liu of using a portion of the money he collected for personal uses, "including to fund investment accounts and to pay credit card expenses."
Further, a report issued by the school found that Yu had listed two of the fake grants on her resume in an effort to gain tenure.
Peter Zeidenberg, Liu and Yu's attorney, told the Journal Sentinel that the students don't feel they have been scammed because they have all graduated and moved on to successful careers. He further noted that Yu has not been charged.
Wire fraud is punishable by up to 20 years in prison and a $250,000 fine, and the unlawful monetary transaction offense carries a maximum 10 year prison term and fine of up to $250,000.
MORE: Former professor pleads guilty to defrauding Chinese students for over $1 million
IMAGE: University of Wisconsin-Milwaukee
Like The College Fix on Facebook / Follow us on Twitter