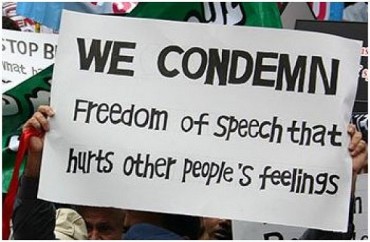 The Supreme Court's 1969 Tinker decision is supposed to protect the constitutional rights of children in public schools, particularly peaceful political expression.
Several Senate Democrats couldn't care less. They are demanding that the Department of Education illegally squelch children's political speech they dislike.
Education Week reports that eight members wrote a letter to Secretary Betsy DeVos* Wednesday asking her to "outline its plan to address the rise of discrimination and harassment in our schools" that they blame on her boss, President Donald Trump.
The signatories all serve on the Senate committee that handles education, including Ranking Member Patty Murray, and they trace the alleged spike in harassment (contradicted by Education Week itself) to the election of Trump:
As the Department has clarified, schools can violate federal civil rights statutes when school employees do not adequately address harassment that creates a hostile environment for students. … The recent spate of incidents of racial and ethnic animus, bullying, and harassment have continued at an alarming pace, raising serious questions about whether all our students truly have equal access to education in a safe and supportive environment.
While citing reports at colleges including spray-painted swastikas, supposed nooses and white nationalist flyers, the letter also pointed to a survey that found "heightened anxiety" among "marginalized students" in public schools because of Trump's "election rhetoric":
In your own home state of Michigan, it was reported that students at a junior high school in Dewitt had built a human wall to block Latino students from entering their classrooms. A viral YouTube video documented students at a Michigan middle school, chanting "Build the Wall" in the cafeteria.
They asked DeVos whether the department will continue her predecessor's "Federal Partners in Bullying Prevention Task Force, and whether she'll commit to nominating a permanent chief for the Office for Civil Rights "who will consider these issues a priority."
(On Thursday the Trump administration nominated Kenneth Marcus, who founded and led the Brandeis Center, which focuses on fighting antisemitism in education. He was "delegated the authority" of OCR chief under President George W. Bush and served as staff director of the U.S. Commission on Civil Rights, now chaired by his would-be predecessor Catherine Lhamon.)
Retired attorney Jerome Woehrle writes at Liberty Unyielding that Murray and her censorious colleagues are running headlong into well-established First Amendment precedents:
[S]aying "Build the Wall" is protected speech under the First Amendment. It may offend Hispanics (or liberals), but that doesn't make it unprotected harassment.

For example, a federal appeals court rejected a racial harassment lawsuit brought over a professor's racially-inflammatory emails against immigration. It found the emails were protected by the First Amendment, and couldn't be treated as racial harassment because they were not aimed at the particular Hispanic employees who sued over them. (Rodriguez v. Maricopa Community College District, 605 F.3d 703 (9th Cir. 2010)). Speech about immigration and how to protect America's borders is core political speech that the First Amendment protects.
Woehrle says harassment reports issued by the Southern Poverty Law Center, cited in the Senate Democrats' letter, "purported to find an increase in hate crimes and harassment" since the election "only by treating constitutionally-protected speech such as 'build the wall' as unprotected harassment, and by cherry-picking what data to include":
The SPLC has grown enormously rich by spreading fear through such deceptive reports, which cause naïve donors to give it money. It now sits on a staggering $320 million endowment, including $69 million in offshore accounts.
Read the letter in Education Week and Woehrle's analysis.
MORE: College GOPers scrawl 'Build the Wall' at painting event, are reported to 'bias incident team'
MORE: After frat bro yells 'build a wall,' Cornell's student government wants to see a punishment
IMAGE: Sam Graham/Flickr
Like The College Fix on Facebook / Follow us on Twitter